So we ate at Chili's again. It was me, Jill, and our four girlies. As usual we had fun, talked too loud, laughed too much and basically made fools of ourselves. Here's a picture of our handsome waiter, Sam. Don't you think he looks a bit like Freddie Prinze JR? Okay, upon looking at this photo here on the blog, he doesn't look anything like F.P. JR. He kinda looks like a dork.
Now let me tell you about Gianna and her unending pit of a stomach. It's really almost scary watching this child eat because she's so tiny at 2-1/2 and 24 pounds, but she can easily pack away 1/2 a pound of pasta, or what Gianna calls Nee-nees. Not only can she eat that much but she does it
quickly
. She didn't just eat her entire plate of penne with alfredo sauce, but then also stuck her hand in Mikayla's bowl and started scooping out macaroni and cheese. I think she put away a few french fries too.
Here she is with a full belly, feeling very happy.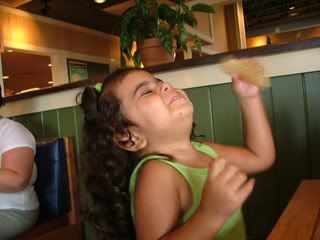 Here's Mikayla doing her Achmed the Dead Terrorist face.
Here's the real Achmed.
Shelia, I'm ashamed to say that I forgot to use the restroom at Chili's to take a picture of my darling self. I'm sorry, but I just didn't have the urge to "go"! I did take a self-picture at the table, but it's very scary. I'll put it here anyway. :::::::::::hanging head in ugliness shame:::::::::: Buffie dammit, I don't think the anti-"pugg" stuff is working!
Of course I had to snap some pics of Jill and the kidlets. But could someone please tell Jill that if she continues tanning she's going to become radioactive or something? Either that or she'll look like George Hamilton. Either option is scary.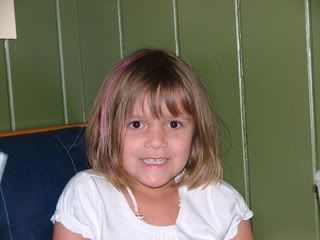 As we left the restaurant Gianna was so cute and thanked Sam the waiter by saying, "Dank u nee nees!"
Next stop, Target. But wait, Jill has to snap a picture of herself in the car.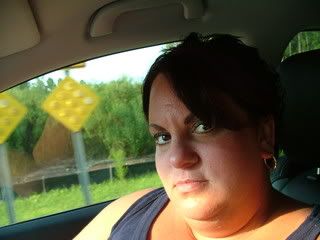 Mikayla was like a whirling dervish in the girl's department, picking out some clothes for the start of school. I swear, she picked out about 7 outfits in ten minutes, flat. All the better for me. I had already been there earlier in the week and was overdosing on Tarjay, know what I mean? One quick spin around the shoe aisle and we were out of there! Here's me chasing down Jill...