Maybe because I woke up this morning looking like a reptile! Yes, there is more flaking and shedding going on today, and I just knew you'd want to see pictures of it. It was explicitly stated in the instructions NOT to pick at any peeling skin, but I ask you this: If you had little tiny flaps of skin hanging all over your face, flaps that you saw when you just looked down slightly, would you be able to leave them there? I'm having a hard time not picking! I've been good and haven't tried peeling the skin off, but it's another matter to just pick off a hanging piece here and there to get it out of my eye sight.

I can tell there's quite a ways to go, but here's what we have so far today. This first pic was taken soon after I'd woken up.
See how puckered and crinkly some parts of my skin are looking? I think that's a precursor to the peeling.
This afternoon it got a little bit worse after showering so I took a couple more pictures. Why are my sunglasses on? I haven't a clue myself! Maybe I was just trying to look more mysterious.
And here's a slightly scary straight-on shot. In this one, you can not only see the peeling, but also can see up my nose enough to recognize a very crooked septum. (And yes, that is some mustache stubble you're seeing. Gimme a break, I'm Italian!)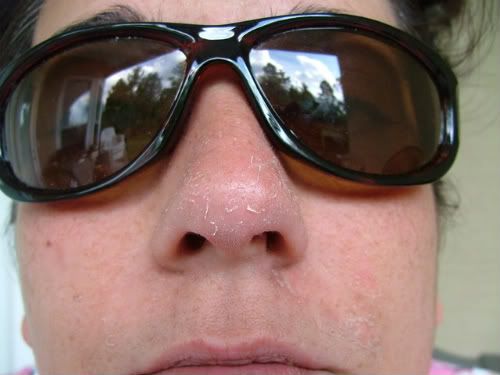 Anyway, the septum is one of the things that will be repaired when I finally get the surgery done. Right now, I'm in the process of making an appointment to have an overnight sleep study done. Ooh, joy! Someone gets to hook me up to dozens of wires and then
listen
to me and
watch
me sleep! Someone remind me not to eat any gassy foods before this test!
The possible outcome of this test? Well, I may have to be set up with CPAP machine, which basically forces oxygen up your nose all night whether you want it or not. Doesn't sound too bad, right? WRONG! Have you ever
seen
one of these things? I swear it's like something out of a sci-fi movie. But wait! I have proof! Not long ago my mom was diagnosed with sleep apnea and was equipped with a CPAP machine. While visiting one day she decided she wanted to model it for me and I snapped some pictures of her with my phone. Hey Dot, is that a frogie my mom is wearing? Oh my, I do so hope my mom doesn't see this post (not that my parents read it, dammit) because she'll probably hit me with the wooden spoon if she sees herself plastered all over the blogosphere looking like this. Oy! I'm taking a bit risk here people!
Is that not the funniest, scariest thing you've ever seen? But it gets better, because after that Mom decided she was going to "pose".
That's it! I'd better hunker down and go into hiding for at least a few days.
Hey Bloggy Buddies?  Yes, you out there... the ones I adore so.  If you have any kind feelings toward me, please tell your friends, tell your family, tell your coworkers... ANYONE, to go to SITS Girls and vote for me!  I'm lagging behind cauliflower and turkey sloppy joes and I am none too happy about it!  Help me out here my most beautiful bloggers!