Earlier today I got to thinking about how much this blog has come to mean to me. Yes, I mostly write about the silly things that happen to me and my family, but it means a lot more than that to me. It's a way to document my life, and that of my friends and family in a way that should be around for years and years to come. It's my very personal, but very non-private diary. I have no talent for scrap booking, so this is my way of collecting my thoughts, my stories, my emotions and yes, my pictures. It's a way for people to get to know me better than they would just by writing emails back and forth. It's so that relatives and friends from afar can keep up with me daily and join in on laughter and tears. My blog is my creative outlet because I love to write but do not have the talent to take it any further than this, my short stories of everyday life.

But one of the very best things that has come out of blogging has been getting to know so many beautiful and funny people that have touched my life in one way or another. All of you are so different and that's part of the charm. Every morning I wake up and get to read your latest stories of life where you live. I get to learn what's most important to you, what makes you feel good, and sometimes even what makes you feel bad. When one of you goes on vacation, I get to experience it through your blog and pictures. When one of you is hurting I take a moment to pray for you and then think of you often until your storm has passed.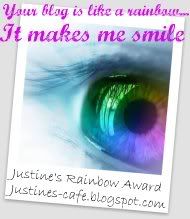 So, while I was pondering all this today I thought to myself, "Why not make my own award to give to the special ones?" And that's just what I did. Now this is going to get long and drawn out, but I hope you stick with me and see exactly why I've chosen the people that follow. It's to these bloggers that I give this award (in no particular order) from the very bottom of my heart:
Tootsie
: One of the sweetest chicks out there, and so very talented in the garden. This woman could grow daisies out of her butt if she really wanted. Always has the time for a friend or a gardening question.
Buffie
: Ah, what can I say about sweet Suzanne? She's always there to make me laugh and has a heart as big as her home state of Texas. She's still got stars in her eyes after 29 years of marriage to Mike, and it's so heartwarming to witness.
Shelia
: Oh sweet Lord in heaven, how I adore this woman! There's not a time I visit her blog when I don't leave it smiling. And oh how I love her Bathroom Diva shots! Shelia's a hoot!
Cindy
: She's got a gorgeous family and now a new grand baby! Cindy loves to relate family stories to us, and just cracks me up with her obsession for Kiefer Sutherland.
Kady
: If you know her, you adore her, simple as that. She's got a love of nighties that are silky and younger men, two of which happen to be her sons. And her daughter is recently engaged! You never know what Kady's next blog will be about. She runs the gamut from bra size to life as a single mom.
Dot
: Ooh, she makes me squeal like a sissy girl! I'm sorry Dot, but I love that line of yours and have to steal it every now and then! I don't think I've ever come across a person that so fully embraces life and praises God in quite the same way Dot does. Her heart is huge and so sensitive to those around her. A better mama I cannot imagine.
Bridget
: She's become one of my very closest friends in the past 6 months or so, and I can't imagine my days without her. She's beautiful, talented, intuitive and giving. A girl couldn't ask for a better friend.
Gail
: For all things British, it's Gail I turn to! She found me a few months ago while planning her vacation to my neck of the woods and we became fast friends. I even got to meet her and her gorgeous family face to face a few weeks ago! She's on a plane right now, and I hope they all get home safe!
Becky
: You want someone to tell you it exactly as it is? Call on Schmecky Girl! Another one of my good buds, Becky is always there to call me on bad spelling and grammar and give me a giggle or two at the same time. Big mouth, big heart!
Penny
: She's another one that has one of those blogs that just make you feel good. She loves Angelo Surmelis, okra, Clay and her dog Ginger. Not in that order, I hope!
Artie
: He's a man of many talents and sweet as pie too! He can garden, he can decorate, he can write like no body's business and make you laugh till you're crying. It seems to me that his greatest joy in life is doing things to make others happy, although I don't think even he realizes this. Scott is one lucky man to have him! Did I mention he's gorgeous?
Donna
: She's adorable, has three great kids, a close-knit family and a new found talent at photography. I'm anxiously awaiting pictures of her family room finished! Go Donna, GO!
Kathy
: I and others call her Brit Kathy because she comes to us from California, via England. This woman can TRAVEL! And lucky us, we get to read all about it. She's got a gorgeous daughter, Hayley who still lives in the UK, and a son who is the spitting image of Jack Black. I shit you not.
Raquel
: Now Raquel is unique because she lives on the Caribbean island of Trinidad and brings a spicy flavor to blogland. She's now in the process of "Trinifying" all of us bloggers and I can tell our journey to Carnival Mas is going to be a hoot!
Elizabeth
: She's got another one of those eclectic blogs where you just don't know what she'll be talking about next. It could be health issues, the history of blog awards, or just a daily pondering. I think out of all the bloggers I know, Elizabeth is the most active in blogland. If there's a MeMe, a contest, or a tea party, this woman is THERE!
Nikki
: Heeheehee! I love to embarrass Nikki by constantly telling her how gorgeous she is. If you've been to her blog, you know what I'm talking about. She's got one of those striking faces that just makes you suck in your breath for a moment. But more than that, she's a walking, talking vintage doll! You've GOT to see some of the outfits this chick goes out and about in. Simply stunning and so much fun!
French
: Okay, her name is really Lisa, but to me she'll always be French. As a matter of fact, remind me to ask her why she goes by French because I never have inquired. French loves to pose intriguing questions for us to answer, but hmmm... I don't think she ever answers them herself! Ooh, have I mentioned that her hubby is hot stuff? It drives her crazy that I drool over him, but hey, at least I'm being honest, right? Yummy!
Kathy
: Have you all met "the artist" Kathy? She's a complete hoot and a totally whacked-out woman, which is why her blog is so much fun. She can suck you into a sad story until you're in tears, and then after you've read the whole thing she informs you she made the whole thing up. Nothing was true! Crying for nothing!
Lisa
: She's the mother of two sweet and adorable girls and the wife of one hubby with a broken leg that just won't seem to heal. Every week she does "wordless Wednesday", which I find to be such a cute idea. She doesn't write a word... just posts recent pics of her girls.
I hope you're all still with me! Maybe you could take a few minutes to ponder what your blog means to you, and how other bloggers have affected your life. It's a huge world out there, but here in Blogland it feels nice and cozy.