Oh, it was another wonderfully
shitty
amusing day for me. First I bring Simmie to a new vet because I've heard through neighbors that this guy is good and doesn't charge an arm and a leg. Not only was I there for well over an hour, but my sugar crashed and I thought I was going to flop to the floor like a dying fish at any moment. Sweat pouring down my face, the whole works. And during all this, watching him scoop disgusting stuff out of a very bacterial-infested ear. Oh, the joy! I knew this was going to cost me. And then they had to wash out the ear. Then take two different slide tests under the microscope to see exactly what was going on in there. Oh, and more blood tests for her very hyperactive thyroid, and then all the medication for said thyroid and icky ear. I almost wet my panties when the receptionist said, "That will be $315.00 please!" Oh yes, this vet is MUCH
more of a scam artist
cheaper. Jimmy's going to love this one. It's a toss-up who he'll throw out the window first, me or the cat.
A couple of hours later it was time to bring Mikayla to her new school's orientation. Oh yes, I was so in the mood for this by now. If you've ever had your blood sugar dip really low, the effects stay with you for quite a while. I wanted to just lay down and bury myself in a blankie and suck my thumb. But no, motherly duties were a' callin', so off we drove to the school. Certainly not enough parking for the entire 6th grade and their families so the cars were lined up all along both sides of this fairly busy two lane road. The first avaiblable space was at least a half mile from the school's entrance, but what choice did I have? So, as soon as I could, I pulled off onto the shoulder like everyone else, car leaning precariously over toward the ditch. I was fine with leaving it there (after all, so had a billion other people), but oh no, Mikayla wouldn't hear of it. "Mommy, you can't park
here
. The truck is going to flip over! Find somewhere else!" So I looked across the street and the drainage ditch did look much more shallow over there, so I decided I'd just do a big U-turn in the street and park on the other side.
The ditch was much more shallow. Only problem was that I accidentally drove a wee bit too far down into it, not realizing it was a muddy bog. Rut roh, I think we're stuck. Mikayla: "Mommy, are we STUCK???" Me: "Shush, I can do this!" Mikayla: "No you can't! We're STUCK!" Well holy shitkabobs, she's right. I was well and truly stuck and when I got out to look this is what I saw.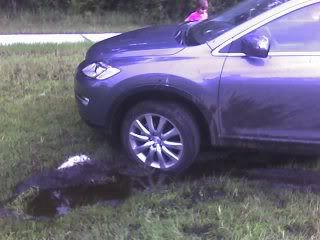 Well dang, this isn't looking too good, but I figured I'd keep trying until some nice family going to the school would stop to help me. Mud was flying all over the place, and no matter what I did the car just wasn't going anywhere. One family did stop... for a millisecond... just enough time to snicker and then walk away. Hmm... nice.
I then realized I had a big bag of kitty litter in the back. That could work as traction, no? NO! It did not. All I did was make a rather nice potty for the next stray cat to take a crap.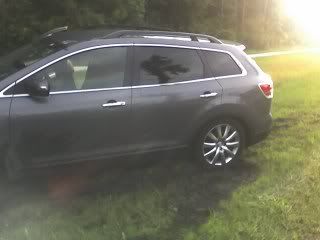 At this point I was feeling a bit crestfallen, and wondering if I'd have to stoop so low as to call AAA because of my own stupidity. (I can't believe I'm posting this hideous picture of myself!)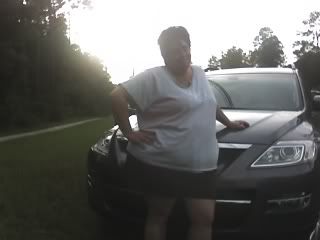 And then, like two angels being walked by their dogs, came my new best friends. Mary and... errrr... I never did get her name, but I love her now anyway! Not only did these chicks stop to help a fellow human being, but they actually got themselves MUDDY and tried pushing my car while I had it in gear. All their sweat equity came to naught, but Mary quickly gave me her name and phone number and told me to go to the orientation; she'd be back with her husband and his truck when I was done.
The orientation was almost over by the time we got there, and the room too crowded and hot to stay in, so we just walked back to the car and waited for Mary in the air conditioning. I had called Jimmy on my trudge back to the car, waiting for him to yell at me for my stupidity, but he surprised me by only saying, "Don't break the car!" Then as I sat there I decided to email Buffie a picture from my phone with the words, "Help meeeeee!" Little did I know she'd freak, thinking I was in a wreck. Oh yes, the first thing I'd do after being in an accident is email Buffie a picture of it! The girl makes me laugh even when she's not meaning to!
Oh boy, this side looks even worse!
And doesn't Mikayla look thrilled to be sitting in the middle of a ditch?
But ooh, what's this? A big honkin' truck with my best friends, what's- her -name, and Mary, plus Mary's husband! Give this man an award! He had me pulled out and back on the street within 3 minutes flat! I wanted to get out and hug all three of them but didn't want them to think I was completely psycho in addition to being stupid, so I refrained. But I did get a pic of Mary! Looky here, ain't she cute?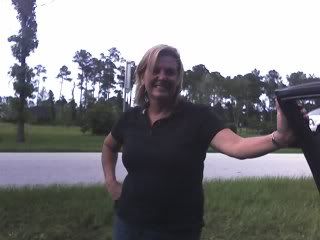 I wrote down my blog address for Mary, and I sure hope she remembers to come by and say hi so I can thank her all over again! If nothing else, I probably owe her and what's-her-name a new pair of sneakers! THANK YOU MARY!!!!!!!!!!!!!!!!!
And off to the car wash we went where all signs of my misadventure were erased. I think I'll stick close to home tomorrow.