It's that time! Time for an acid peel update! So far, the results are not what I had hoped for. I had visions in my head of huge flaps of skin peeling off like a skinned tomato. Obviously, I'm not going to get those results with this strength acid peel!

Yesterday my face was feeling tight and like I had a slight sunburn, but not too terribly uncomfortable. Keeping Neosporin on it definitely helped. Today my face was definitely showing signs of something going on. A lot of red blotchiness and some crinkly looking areas too, especially at the apples of my cheeks. I had a tiny bit of dry skin-looking flakes, but nothing to write home about. But after I had showered I saw a lot more peeling going on, but I would put it on par with the results of a very slight sunburn. I don't see how this small amount of peeling is going to do anything for the acne, hyperpigmentation, or brown sun spots that I have. Yes, I was hoping it would peel off several hundred layers of skin! Who could blame me?
Here's a picture I took of the side of my lip/chin/cheek area earlier today.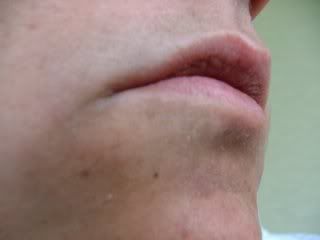 You can see just a bit of flaking under my lower lip. This was before I took a shower and washed my face.
Now this is what the side of my face looked like after my shower.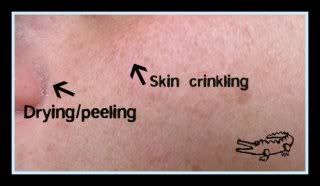 That doesn't look too bad, but look at my poor chin!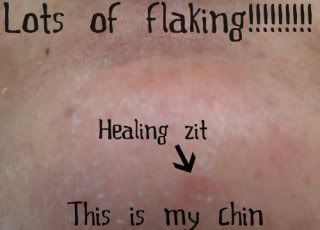 Everywhere you see white, that is peeling skin. And the crease of my chin is more red/purple than usual from the acid drying it out. That's a huge acne area for me too. Little tiny pimples that you don't even see unless I stretch my lower lip over my teeth.
So as of right now, would I consider this acid peel a success? Hell no, unless it was an acid
flake
treatment! I'll probably do this a few more times in the next several months and see if repeat treatments make a difference. I can also do a double layer of acid, where you put on the first layer, wait five minutes, then put another layer on for another 5 minutes. Supposedly this gives you a 25% stronger peel. We'll see! Maybe I should just throw this stuff out and buy a sandblaster!
While I have all of you here, let me say a huge
thank you
to everyone who went to the SITS Girls Recipe site and voted for me. Right now I'm in the lead, but you never know when one of those inferior recipes is going to sneak up and bite my hiney! Keep your extremities crossed for me!