Okay, okay, we didn't really take over the restaurant... we were actually very well behaved for the most part.  We ate at Mango Mango's in St. Augustine and it was terrific.  Tiny little place, nothing fancy, but the food was fabulous and the wait staff friendly and attentive.
My gang arrived a little late (but we did leave word with the restaurant) and I walked in there feeling anxious and excited.  I was being polite and waiting for the hostess to take us to our table, but Jimmy was feeling bold and just walked right in, scanned the crowd and locked eyes with Gail.  Don't know why he did this as he's never even seen a picture of her, but she's seen pics of Jimmy and knew him right away.  So, off I went to follow.  First impression?  Gail is absolutely adorable with this wonderful smile and huge, gorgeous blue eyes.  Her new haircut looks awesome on her and the slimy bitch woman actually looks good with only a tiny bit of eyeliner and blush on!  I felt like an absolute clown next to her.  There she is, looking all beachy- natural, and there I was with my hair slicked here, sticking up there, and a full face of makeup that would probably make Tammy Faye proud. (Minus the mascara tears, thank you very much)
Her children, Alexander (5), and Jordan (15) are both gorgeous boys, and although Gail warned me that Jordan tends to be moody and closed-mouthed, he was very talkative and friendly. I did have a hard time understanding him half the time, between the restaurant being noisy and his very thick "Geordie" accent. Gail doesn't talk exactly like him because she grew up in a different area of England and has moved around a bit. I have to say, I was in awe of the color of Jordan's hair. A color I don't think I've ever seen before. Blonde with red in it, but not quite strawberry blonde. His hair is almost peach colored. Here he is.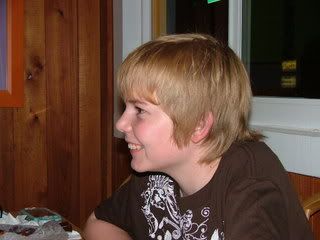 See? He doesn't look moody at all, does he?
Alexander was super quiet through most of the meal, entertaining himself with his PS2 and Star Wars men. It was only after he ate that he popped out of his shy little shell and started acting like a rambunctious little boy, making believe he was shooting all the diners in the place. Too cute! Here's a pic of him.
On to M/M/J. That's what I call Gail's husband. The story behind that is that his true name is Julian Michael, but for most of his life he went by Mick. But when he got older he decided he wanted to be called Michael. I don't know why he's never used his real first name... it's still a mystery to me, but I just call him M/M/J. Jimmy mistakenly called him Mike, but we corrected that at the end of the evening. What did I think of M/M/J? Very friendly, gorgeous smile and incredible eyes, and cute cute CUTE! Did I mention I think he's really good looking?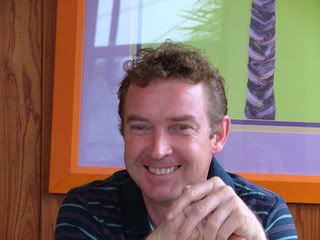 Doesn't he look so British here?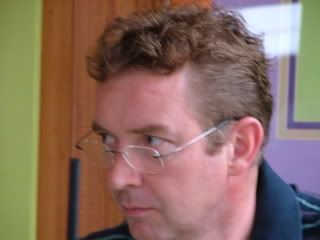 But oh my goodness, I haven't shown you a picture of Gail yet! I have to apologize for the quality of some of these pictures. Mikayla was the photographer tonight and I didn't want to take the time to crop any of the pics. Plus, she forgot to take pics of me and Gail together! (Probably because she was being a social butterfly and didn't shut her mouth for more than two seconds at a time!) Egads! Here's a picture of Gail holding up the frame I bought her. It says Friends and then on the upper right has a butterfly. I told her she has to print one of the pictures of us together for the frame.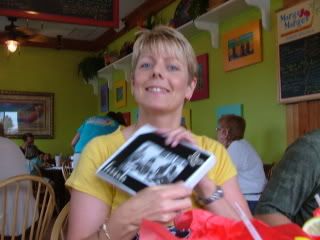 And look! I got goodies too! Lots of them in fact! Some that really made me laugh, some that made me laugh and cringe at the same time. Look at the cute bag she brought my "prezzies" in!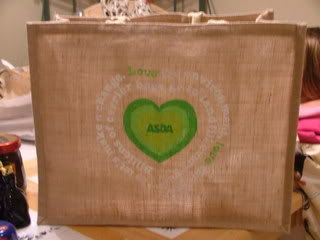 Here are the assorted goodies.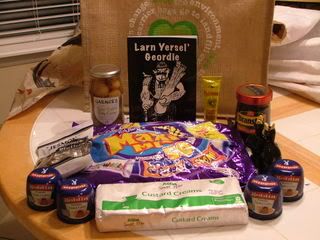 Shelia, look what she got me! Pie Birds! That is what they're called, right? Look at how cute they are!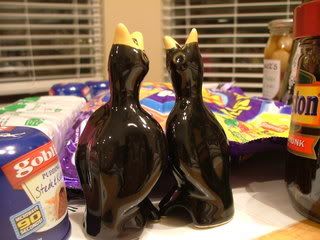 Ewwww... but check this out! And Dot, this is not the same "Ewwww" that I gave to your BBQ spaghetti. This one takes on a whole new meaning of "Ewwwwwwwwww".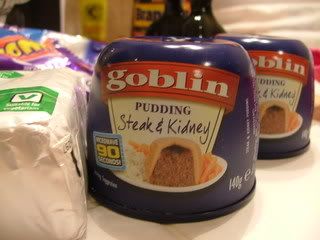 "Pudding" is another word for dinner in their part of the world, and yes, that says steak and kidney. In a can! But no, Jordan corrected me. "That's not a can, that's a capsule", and capsule sounded more like "capsyool" in his accent. But as if having steak and kidneys in a capsule aren't bad enough, these are referred to as baby heads! Oh my word!
I've been told that I have to try each and every one of these food items and Mikayla will review them on her blog. Because Gail is forcing me to eat animal organs, I made her try a small piece of my conch fritters, after I explained to her that a conch is the huge snail that lives in those big shells you put up to your ear to listen to the ocean. She didn't hate it, but she wasn't in culinary heaven either.
These chips were really good, and pretty to look at too! No organs or slimy sea creatures here!
Here are just some random pics of the gang. Look at how blue Gail's eyes look here.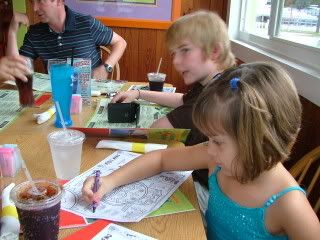 Mikayla, savoring her hot fudge chocolate cake.
Me, holding up a huge piece of fried fish that both looked humanoid and like Patrick from Sponge Bob. Totally blurry.
Ooh, just stole this pic from Gail's blog. Much better picture of my fish!
I so wanted Gail and I to go to the potty together to take some Darling Bathroom Diva shots, but it was a small, one-person affair with only one oval mirror. It wasn't easy to get shots, but I did it and I know Shelia will be proud of me! Isn't my shirt cute?
Ooh, look at my gorgeous TP scarf! Trying to get artistic here and failing miserably! See those scratches on my arm? Kitty gone wild in the middle of the night and catapulted off my arm! OW!
There now, that's better. Looks much prettier tied up in a bow on top of my head, don't you think?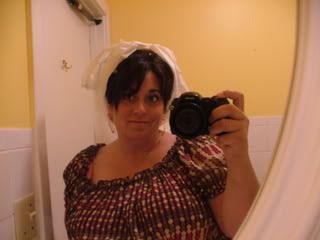 And hey, my makeup doesn't look Tammy Faye at all, does it?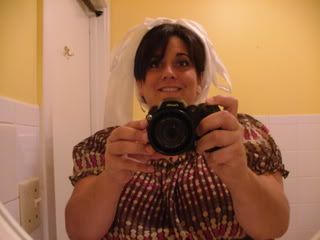 And that, my friends, is the end of this episode of "Meet that Brit". It was a wonderful experience and just confirmed my belief that you really can find beautiful people and true friends online.
Until next time, Justine :o )