Here I am posting my very first
PINK SATURDAY
! This weekly game is hosted by Beverly, at
How Sweet the Sound
. Click over and give her a look-see!
Now from what I've seen of most
Pink Saturdays
, the ladies involved post beautiful pictures of their china, depression glass, tea sets and nick- knacks. Well, I don't have any of that stuff, even after 15 years of marriage. I know, I know, it's damn pitiful but will hopefully some day be corrected. Until I really started thinking about it, I didn't even realize that I owned anything
pink
. Then, while drinking coffee the other day it hit me. My
mug
is
pink
! Okay, it's not exactly my mug, but Mikayla's, but I use it all the time. Cute, eh?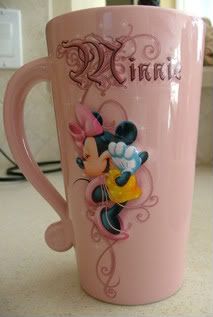 Yesterday, I was sitting out here on the back patio and my cell phone rang, and ding ding ding! I realized my phone is
pink
! It's also "tattooed", which was designed by no other than Ami James from Miami Ink.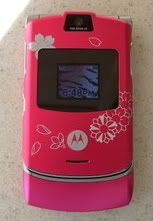 And then the mail came yesterday, and with it, a box of some items I'd ordered from Fashion Bug. Ooh, what's this? It's a nightshirt and it's
PINK
! Adorable little moo moos on it too, don't you think?
Here's a close-up of the pocket and the very cute cow adorning it.
And now for my very favorite entry into
Pink Saturday
! I was going to model this for you, but figured there would be a lot of screaming and crying through the blogosphere, not to mention damaged retinas. So, Madison's huge panda got the honor, and I think she wears it well.
I was going to stuff it to make it look more realistic but I didn't have any cantaloupes in the house. But look at how cute this little dangling jewel thingy is. For some reason when I saw it, I though of Shelia.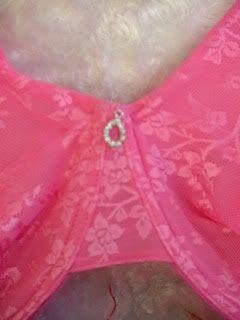 Well ladies (and gentlemen), I do believe that's all the
pink
items I have to share with you. I'm constantly amazed with the amount of items some of you can come up with each week. Thank you Beverly for allowing me to become one of the
pink
ladies!
Until next time, Justine :o )