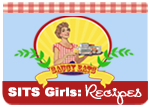 Hello beautiful bloggers and SITS girls! I'm entering my
Garlic Bowtie Pasta with Spinach
in a contest held over at
The Secret is in the Sauce
and their recipe site,
Sits Girls Recipes
!
My instructions from SITS are simple. Just post my recipe with a link back to their site, and when the voting begins I will let you all know so you can run on over there and vote for ME!
So here's my very simple but delicious recipe!
Garlic Bowtie Pasta with Mushrooms and Spinach

Cook and set aside one pound of bowtie pasta.

In a large pan, pour in a good amount of olive oil... at least a full cup.
Crush and gently sautee about 10 cloves of garlic, until tender, but not brown.
Add one full bag of baby spinach leaves (at first these will be a huge mound in
the pan, but keep turning them. They quickly wilt down to nothing).

Once the spinach has wilted, add one (drained) can of mushrooms. (I have used
fresh, but they produce too much water for this recipe).

Add salt and pepper, and a few dashes of garlic powder.

Pour your spinach mixture over the pasta and toss well, adding a liberal amount
of parmesan cheese. You're done, so enjoy!