Just kidding! But I bet I had ya there for a second, eh? Oh look, I turned Canadian again for a moment. Maybe next time I'll do the upper mid-west and do a "don'cha know?" for you. Okay, back to the issue at hand: My face. Against the judgment of many of my blogger friends, I went ahead and did the TCA 12.5% acid peel today, and look! I'm still alive and able to blog about it! Now I'll admit, there were a few moments (and I take this from Dot, with respect) when I wanted to squeal like a sissy girl, but did I? No, I did not.

Now I haven't forgotten that I promised you video of this event, no I did not. Tiney came through for you, although the quality of the video is hideous. I turned down the dpi on the camera in order to be able to take longer video than it normally would, hence the grainy picture. In retrospect, this may be a good thing because I was not exactly looking my best! Naked face, hair pushed back with a headband, and oops! I forgot to put on a BRA! Yes, you heard me. I'm coming to you from my
messy
kitchen with the "
girls
" free and floppy. But hey, what more would you expect from me? And just to make the sound quality worse, we taped while Jimmy was mowing the back lawn. Uh huh, this is a professional job here.
But before I grace you with video coverage, first let me show you a macro picture I took of one side of my face before I did the peel. This is, one, evidence that I truly do have skin issues, and two, a baseline to judge if this peel actually does something to improve said issues.
And here we go with video! This is just a quick intro, with Mikayla in charge of filming. Oh, what was I thinking?
Now we get down to the hard-core peel-o-mania, and then get cut off right at the end by the camera saying, "I've got no more room for this nonsense!"
And here I am, halfway through the waiting process of five minutes. I look like I've got my head bowed in prayer, but really I was just trying to take a quick nap.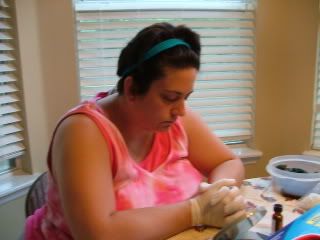 It's approximately 5 hours post-peel now, and my skin is feeling a little tight and uncomfortable, but nothing major. The best way I can describe it is that it feels like when you're at the beach and have a slight sunburn and the saltwater has dried on your face.
Ya know, sometimes I surprise even myself with how far I'm willing to go to entertain all of you. You guys have seen me at some of my very ugliest moments... that one shot of me standing in front of my car in the mud for example, was disgusting!... but I just keep doing it over and over again, coming back for more! What does that say about me? Do I have no self pride? Am I twisted and sadomasochistic? OR! And this is a good one... Is it that I'm so comfy with my own self esteem and self worth that it doesn't bother me to be viewed poorly once in a while? Oh, I think I definitely choose the last, whether it's true or not. And while I have your attention, who is it that voted on my poll that my blog is just fluff? Show yourself you lousy traitor! Just kidding! We're all allowed our opinions on the Froggy Bloggy, even if
I now hate you
I don't agree with them!
Okay, I think I've covered everything for now. Just keep checking back for updated pictures of what my face may or may not be doing in the next week or so. It will be really interesting if it actually does start peeling off!
One more thing before I go. Please please please, don't forget to visit my previous post about the SITS Girls Recipe contest, and vote for me! All you have to do is click the SITS button and it will take you right to the poll! I want to win this so badly!