While you're reading this, I'm probably at this very moment deep under anesthesia (at least I'd better be or there will be hell to pay!), having my sinus innards manipulated, cut up and rearranged. In all my 38 years I've never had surgery and the very thought of it makes me quiver. I'm not so afraid of what's going to happen while I'm out or even any consequential pain I may feel afterward. I'm most afraid of how I will react to the anesthesia. If you know me, you know I have a horrible phobia about puking. Dr. W assures me that the medications they use today are far superior to ones used years ago, and that they can also give me something else to lessen the chances of my becoming sick. Uh huh. I'll believe it when I see it. But who knows, maybe while you're reading this I'll still be at home, not being prodded with scalpels and other disgusting instruments. The nurse from the surgery center said I'm just on the borderline of being too fat for surgery (okay, she didn't say it like
that
) and it will be up to the anesthesiologist to make that determination.
Here are some pics that Mikayla took on my pre-op visit to see Dr. W. In the waiting room, me and my sweet sweet baby, Madison.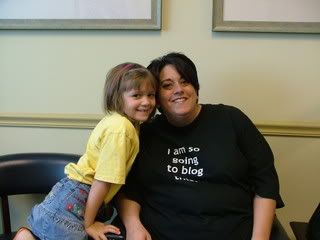 Sitting in the exam chair, waiting for Dr. W.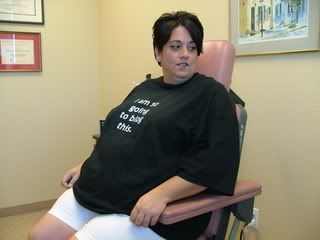 Dr. W looking up my nose to see what's going on up there.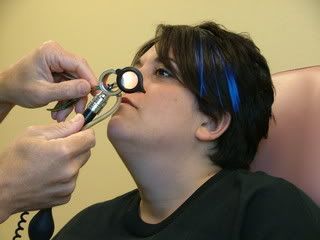 Close-up of the shirt I was wearing. Cute, no?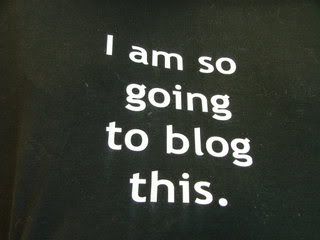 I'm sure you're all wondering what I'm having done? Full body liposuction, and an upper and lower brow lift.
Only kidding!!!!!!! heeheeheeeeeee! Don't I wish? Really though, I'm having a septoplasty (cutting up and rearranging the septum in my nose so that it lies straight), an adenoidectomy (mine are ginormous and adults don't even usually have them), tubes put in my ears, turbinate reduction (cutting away parts of my sinus passages to make them wider), and having cysts behind my cheekbones removed. Sounds quite ghastly, doesn't it? Waaaaaaaaaaaa! I don't wanna do it! I don't wanna!!!!!!!!!
Anyway, I've already instructed Jimmy that if I get through the surgery okay and I'm not sick, he's to take pictures of me in the recovery room. These will undoubtedly be very embarrassing pictures indeed, but I'm nothing if not daring, right? According to Dr. W. there should be no outward signs that I've even had a surgical procedure done. No swelling or anything like that. Again, I'll believe it when I see it.
Mikayla is pretty savvy with the camera, so Lord only knows what kind of havoc she'll wreak on poor old mom while I'm all drugged up. Will I blog about it and post pictures? Damn straight bloggers! I sure will! I don't know when I'll be up to actually blogging but I'll surely get to it as soon as I can! Wish me luck, say a prayer, and cross all your extremities. Oh, and for this to work properly, you must do all three simultaneously.
Until next time, Justine :o )