This post is for my dear blogging friend, Shelia. She's a little loopy in the head but that's part of the reason I love her so. Oh, and if you haven't seen her beautiful baby Chloe Dawn, you're missing out on all that beautiful fuzziness! Visit Shelia, Mr. Precious and Chloe Dawn at
Note Songs
.
Anyway, Shelia has this odd condition where she can't use a public restroom without snapping a picture of herself for posterity. Now I'm not implying that she does this when she stops for gas at Hess, but bring this chick to a restaurant and she's going to excuse herself to powder her nose but instead she'll be posing and snapping like a redheaded Heidi Klume.
So anyway, she's now asking her fellow bloggers to take the plunge
r
and do the same! Well, you all know I'm up for anything that's considered this side of normal, so at the Alligator Farm today, I excused myself to go potty and took pictures instead! Here's to you, dear, sweet,
twisted
Shelia!!!!!!!!!!! How'd I do?
Had to turn a bit to the right here so you could see my blue streaks better...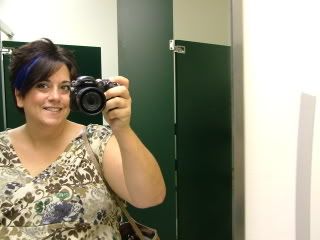 Wow, taking your own picture in the mirror takes some practice! Whew! So Shelia, am I now one of the Bathroom Beauty Snappers?
Until next time, Justine :o )