Hello bloggers and bloggerettes! It's me again, but with a slightly less embarrassing kind of post this time around. Aren't you happy to hear it? No gross pictures or videos to look at, just some pretties from Italy.
Jimmy got home this past Saturday night and boy was he in a MOOD. Oh my, I asked him to go BACK to Italy almost as soon as he walked in the house. But that is neither here nor there. This post is about the goodies he brought forth. He found some cute fake designer purses from a street vendor when he was in Venice. These purses were slotted for me, Jill, and his two coworkers. Of course I got first pick. Here are the ones he chose. Two "Prada" and two "Gucci".
I chose the black Prada. Pretty! Jill got the "Gucci" tote.

He got the girls really cool masks made right there in Venezia. I forget what he said the masks are usually used for. Some kind of parade or celebration!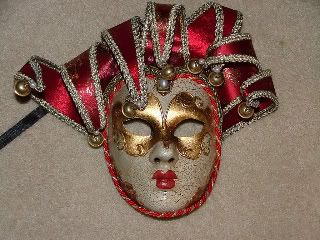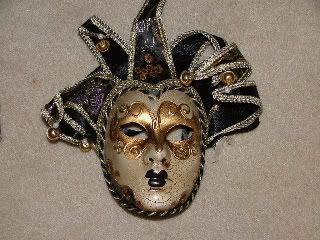 Then he bought a bunch of Murano fish. One for Jill, the rest for coworkers. Also got his secretary the pretty Mille Fiore paperweight.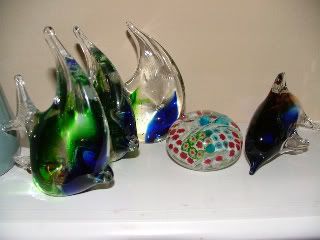 Jimmy found this fabulous painting in Venice, this time from a street artist. Too bad he spent so much money in Italy we now have no money to frame it!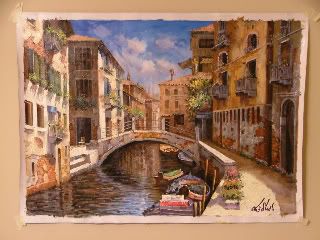 The girls each got a Murano necklace. Mikayla got the heart, which I love, and Madison the flower.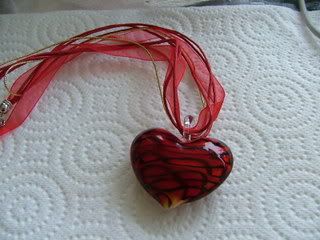 This next piece he bought with the intention of either giving to me, or to Jill. Okay, wait, that's a lie. He bought it with the intention of giving it to me, until he found something else for me and decided this would be for Jill. But I was a mean mean sister and upon seeing it decided she couldn't have it. Hey, she got her fish, didn't she? She got her fake purse, didn't she? Murano is for ME!
This is the vase he chose for me. A bit too art deco-ish for my usual taste, but I'll still love it and treasure it always. This piece also happens to be etch-signed by the master glass blower who made it. One has to work there for 25 years before they are considered a master at their craft.
And one last piece of Murano that's for the whole family. A new Christmas ornament!
This picture is just too cute not to share. Jimmy and the guy he was traveling with, sitting with Madison's tree frog, Jesse. They're on their way to Murano island here, I believe.
And look at what happened after Jimmy's friend's wife kissed Jesse!
It's a miracle of fairy tale proportions!
And that's my new stash. Not bad, eh?
Until next time, Justine :o )