Okay, so it's a thoroughly stupid and senseless post, but I do love my supermarket and think they deserve a little shout-out in blogland. After growing up on Long Island, in NY, and shopping in what were usually old and decrepit grocery stores, moving to Florida and shopping at Publix truly has been a pleasure. I remember the stores I went to with Mom as a kid. King Kullen,
The Grand Union, and Pathmark.
I never knew there was something better out there. These stores were all I knew in my little world. And then we moved to Florida.
I will never forget the first time we (meaning Mom, Dad, Jill, and I) stepped into a Publix supermarket. As soon as we walked in the front doors the first thing that stunned us was the lighting.
Holy cow it was bright in there and everything so shiny and CLEAN! My dad immediately put his sunglasses on as he Oohed and Aahed over the perfect displays of stacked boxes of soda and various merchandise.
All four of us walked those aisles in shock. Who knew a supermarket was supposed to be so clean and well organized? Who knew the products could be displayed so nicely? And the employees! OMG, they actually asked how you were doing, and did you need any help finding anything? We sure ain't in NY anymore!
Then we proceed to the checkout with our items. Not only is there a friendly cashier to ring up our purchases, but also a bag boy to pack up our stuff. We paid and were about to leave when the bag boy said, "Can I help you out to your car with this?"
We were so stunned that we took him up on his offer. After he'd unloaded the groceries into our car, Dad offered him a tip. "No sir, this is a courtesy from Publix and we do not accept tips for it."
Holy shit! Were we still on the same planet?
Hence began my love of Publix supermarkets.
Yeah, I guess it's ridiculous to love your regular supermarket so much, but when it's always neat as a pin and it's filled with friendly, helpful people, it becomes a nice place to go to do a crappy chore. Here's a picture I took of my store.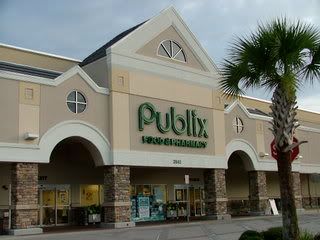 One part of food shopping that I really hate down here in Florida is waiting at the deli section for lunch meat. Up in NY, you'd go to a deli and place your order, and before you could blink your eyes the packages were in your hands, sliced to perfection. Down here it seems deli employees move at a much slllllllllllowwwwwwwwwwwwwwer rate and I hate to stand there, leaning on the glass, waiting for my stuff to be sliced. So each week I write down exactly what I want and exactly how I want it sliced and hand the note over to whomever is behind the counter. Usually it's my favorite guy, Danny.
He's always got a smile and automatically reaches over the counter because he knows I'm going to hand him a list. You may recognize the side of the sign you can see behind his head. It's Boar's Head, and it's the ONLY lunch meat this family will eat. Best stuff in the world and made only from quality meat... no by-products, fillers and mashed up intestines for us!
One of the best features of Publix is their weekly Buy 1 Get 1 Free specials. I'm really bad about shopping with coupons, so this is at least one way to save some money. I didn't buy this, but wanted to take a pic of the sign anyway.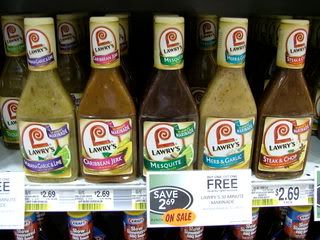 And this is something that pisses me off thoroughly. Do you see how much I'm paying for coffee now?
Are they sprinkling gold dust in there along with the beans? I go through at least one of these per month, and that's with only me that drinks coffee here. I love it when they have this on Buy 1 Get 1, but they rarely do.
This next picture I took specifically for Raquel because she had taken a picture of mangoes last week.
Of course hers were probably grown right there in the Caribbean. Don't know where these came from, but they look good. I love how the produce section is always clean, no fruit flies, and free of rotted fruits and veggies. Not all supermarkets can claim the same!
And now our shopping was done and it was time to unload the cart. Usually the bag boy will offer to do this, but I had my little slave there with me this day. Wow, she actually did the whole thing by herself. Excuse her appearance. This is what she looks like after a full day at marine camp!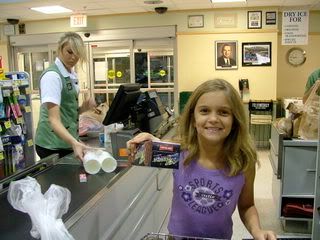 The cashier thought I was a bit nuts when I asked to take her picture, but she still smiled pretty!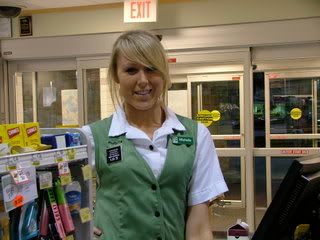 And looky, they even have a computer screen so you can see exactly what you're paying for each item. She wasn't done ringing yet, and already look how much I've spent!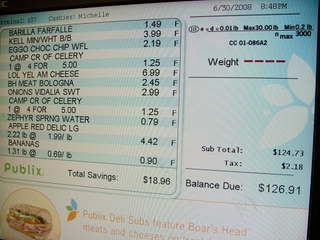 And alas, now it's time to bring it home, unload it, drag it in the house, and load up the fridge. And boy did I pack it tight. I really can't wait to have my own house again and get the fridge of my dreams. Right now that would be the LG 4-door, with two sliding freezer drawers. Ah, one can dream! As you can see, this one isn't cutting it for a family of four!
Anyhoo, I hope you enjoyed your tour of the greatest supermarket on earth! We'll just chalk this up to another of those "What was she thinking?" blog posts!
Until next time, Justine :o )