No, not a yeast infection! Goodness gracious, do you really think *I*, moi, would write of something so repulsive? Well yeah, I probably would, but that's not what this is about. A friend just recently sent me this unbelievably easy fresh bread recipe and I finally tried it tonight, and decided I HAD to share it with my blog buddies. Really bloggies, is there anything more heartwarming and homey than the smell of fresh-baked bread?
At first I scoffed at the idea that a bread made with only 4 ingredients could be yummy, especially a bread recipe where no mixer is involved and NO KNEADING??? Nah, can't be! But I promise you, it's true! I think this is the first time I've ever made bread from scratch, and if I was able to do it without screwing up, I know all of you can too. Just make sure you read the directions completely, because there are certain steps to take, such as preheating your stone or pan for 20 minutes before placing the loaf on it.
Click
here
to get the link to the recipe, and make sure to let me know if you try it! Here's a pic of my masterpiece...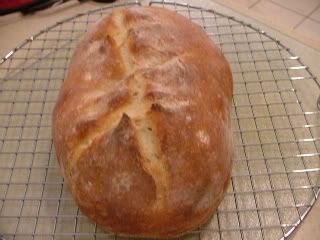 Now doesn't that look good? Not only did I serve it warm with butter, but I also roasted a whole head of garlic until it was soft and spreadable. Mmmmmmm! The four of us attacked that poor loaf like a pack of wild animals in starvation mode. The whole thing was gone in a matter of minutes!
Come on now, you've got plenty of time to make this in time for your Fourth of July parties! Ooh, mix up some olive oil, chopped tomatoes, salt, pepper and basil, and make bruscetta! Mmm. Yummy! Enjoy!
Until next time, Justine :o )