My birthday turned out to be really fun, in spite of the fact that Jimmy worked all day and well into the evening. The reason why it turned out so well was because Jill and Mark decided to stop here with the girls on their way home from the RMH. They even wound up spending the night! As soon as they walked in the door they raided my fridge and pantry like a pack of starving animals, and soon after Jill and I looked at each other and said, "Nap time!!!!!!!" So yes, my sister comes to visit and we all go our separate ways to snooze.
When we finally all got up and showered we decided to have dinner at Chili's (that's one L, Gail... ONE L) to celebrate mine and Madison's b-day. We had a blast just acting completely goofy, and the food was really really good. Madison and I even got free b-day ice cream, mine of which got devoured by Jill. Here are some pics of us at the restaurant.
Jill trying to hide behind the menu...
Me, in serious need of a hair cut. That came the next day!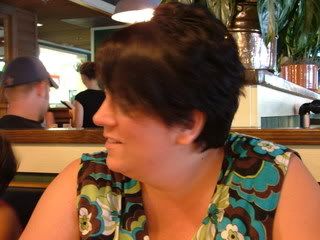 Marky...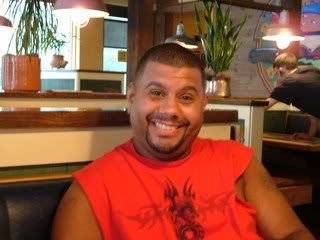 A horrible picture of Madison (also needing a hair cut), and Alexa, with wet hair...
Alexa and Mikayla driving me nuts. Don't know why it's so blurry... Oops, you can see my bra.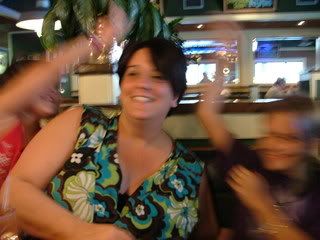 What did I do to embarrass her this time??? Or could this be her mortification as Poopy Pants sent food flying in all directions, including other diners' laps?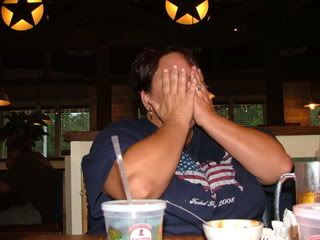 And here's Poopy Pants, looking so cute. You can't really tell from the pics, but the inside corners of her eyes are completely blood-shot from the surgery. She's got stitches in her eyes!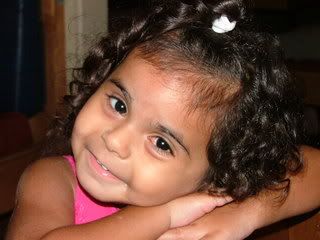 After dinner I announced that it was my birthday and I wanted to walk around Kohl's. So, off we went, me with my camera in tow. But little did they suspect that I would turn it on video mode. Heeheehee. Here are three short videos for you to enjoy. Poor Jill never does catch a break from me, does she?