I was so excited today when I happened to come across my wedding photo proofs that I thought were in storage.  Right away I thought, "I've got to blog this!"  Sure, I could wait another couple of of months and do it to celebrate our 15th anniversary, but once something is in my head, that's it.  MUST DO IT.  I want to apologize in advance for the horrible quality of the following pictures.  I no longer have a pc, so can no longer use a scanner.  I had to take pictures OF the pictures and no matter what I did they came out cloudy and with a glare.
To begin the story of Jimmy and I, we have to go back to 1986, where we met at my then-best-friend, Diane's house one night in September.  I think for both of us it was love at first sight, and the following day I even said to Diane, "I am going to marry him." I'm guessing a lot of people had a moment like that, one of such clarity you could actually see your future, but for me it was a bit more of an adventurous thought because we were only 16 at the time. Through the next 7 years there were plenty of trials and tribulations, but we did make it to that crucial point... getting married!
Now for those of you who grew up in the south, or probably anywhere else besides parts of the east coast, the wedding we had may seem overly elaborate and expensive to you. But in NY, weddings are done BIG most of the time and people don't come bearing gifts. No, they come bearing envelopes filled with MONEY. The bride often even carries around a satin bag just for the purpose of keeping the envelopes safe.
If it hadn't been for a settlement that Jimmy got after being hit by a truck when he was 16, I don't know how we would have paid for our wedding, but luckily we had that money on hand and used every penny of it. In total, we spent $23,000 from beginning to end. Maybe that doesn't sound like very much to you, and maybe in 2008 it's not, but in 1993 it sure was, especially for a waiter/future engineer, and a room service operator. We had a total of 163 guests and our reception was held at a place called the Mediterranean Manor. It was wonderful! So many people told us it had been the best wedding they'd ever been to. I give credit to the wonderful food and the most phenomenal band on the planet. They were a very popular Long Island "cover" band and we found them... in a BAR! And get this, I just googled them and they have a web site and their band is still going strong. You can visit Full House
here
. Jimmy even worked with the band, and they performed a song he had written for me. Amazing!
Both Jimmy and I worked for the local Marriott, so we had a block of rooms reserved for guests, and this is where I got dressed. Yes, the dress had quite a bit of bling, but remember, this was 1993!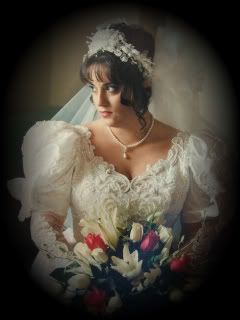 Me and Mom. Doesn't she look more like she's going to a funeral? What IS with that sour puss on her face? This was during the years that Mom was heavily into hairspray, as you can see. I used to call her helmet head.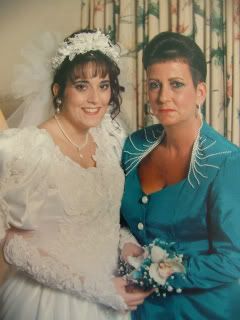 If you've read earlier posts, I've mentioned my oldest friend, Sinead. Of course her car broke down on her way to the hotel so she was late! But anyway, here she is. Isn't she beautiful?
Here's me and Dad outside the hotel, getting ready for my ride in the Rolls Royce.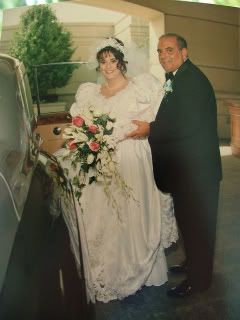 Jimmy with his best man, Darrin, just before the ceremony started. Darrin was just an extra worry on our wedding day, as he was a bit of a coke-head, so we had to make sure he was up, ready, and sober for the big day!
Sinead and our friend, Jason, walking down the aisle. If I had posted pictures of everyone coming down, you'd be here all day!
Ah, here we are at the altar, exchanging our vows. Check out how long Jimmy's hair was! And notice the priest we chose to do our wedding. We specifically chose him because he had the most beautiful James Earl Jones-like voice.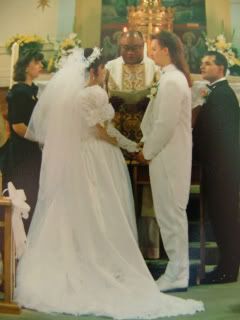 Whew! We're married. But now it's picture time. From left to right (not that any of you care):  My cousin, Chessie, (if you look at my guest book you'll see a picture of her with her husband.  She ain't a kid anymore!) my (no longer) friend, Antonietta, Sinead, my sister-in-law, Pat, Jill, my then-friend, Diane as maid of honor.  (Jill and I weren't as close back then).  To Jimmy's right is Darrin, Naseem, my brother, Jeff, Jason, and Tom.  My nephew Jeffrey (who is now 20!) is in the front.  Awwwwwww.
Ooh, another ride in the limo. This time to the not-so-local arboretum for pictures. We had 3 hours between ceremony and cocktail hour, so we didn't have to rush.
Wow, look at the size of those trees!
I wish the following pictures could do my cocktail hour justice, but they just don't. I thought I had my wedding video handy and I was actually going to video the video (that sounds funny), but I can't find it. From these pictures you can't tell that the buffet encompassed an oval, probably 12 feel long, or more. Every fruit and vegetable was carved into animals and beautifully arranged. There was also a choice, of I believe 6 hot dishes. This lasted the usual hour, with drinks being served and one of the band members playing a piano.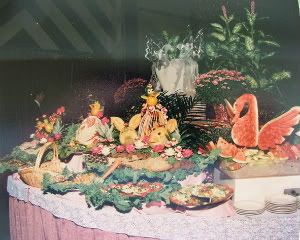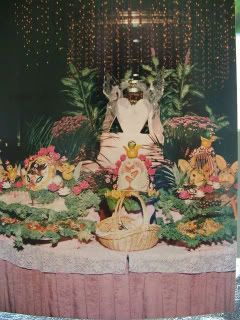 After a full, sit-down dinner where you had the option of a second helping, we had a special liquor and chocolate bar set up. Oh boy, did people flock to this table! I wish I had some good dance floor shots, because things got pretty wild at my wedding! It's so funny to see people that you work with, or older relatives totally lose their inhibitions and just let loose. What a riot!
And the last picture I have to share with you, is when Jimmy was going for the garter. Hey! What's he doing? I thought he was supposed to grab it with his hands, not his teeth!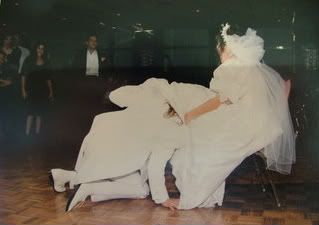 And that, in a nutshell, was our wedding. We didn't break even on it, that's for sure. I think we only made $12,000 in gifts, but we didn't care. It was a hell of a wedding, everyone had a great time, and we were off to Maui a couple days later! What more could you ask for?
This was probably the most boring post I've ever put on my blog, but I was just in the mood to reminisce. Hope you didn't mind too much!
Until next time, Justine :o )