Yesterday we celebrated Mikayla's 11th birthday (two days late) with family and four of her friends. Unfortunately, my brother, Jeff, is HIGHLY allergic to my kitties, so we had to get creative in order for him to be able to come for the festivities. So Jimmy decided we should drag all our food and stuff up to our community pool where we could hang out all afternoon with no felines in sight. It worked out great! I had spent the whole previous day preparing bread, pasta salad and a pie, plus all the last minute shopping that needed to be done. Jimmy's parents showed up early and my mother-in-law was a great help in getting everything organized for our drive up the block to the pool.
They have really nice charcoal grills up there for anyone to use, which is great, but who knew you had to spend $10 for a bag of charcoal these days? No wonder everyone uses gas!
I actually forgot to take pictures the first two hours we were up there. Was I out of my blogging mind? I didn't even get pictures of the kids because they were all on the far side of the pool the whole time. I did get Gianna in a contemplative, and may I say QUIET moment, which is sooooooo unusual for her. Look at my sweet Poopy Pants!
Wouldn't you just kill for those corkscrew curls?
Here's Jill with the look that says, "I know you're going to blog this whether I want you to or not.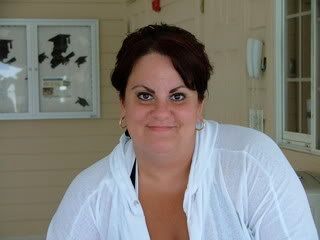 Oops! Total slip of the trigger finger! And yes, I accidentally uploaded it to the computer, and accidentally uploaded the picture to blogger. Oopsie!
OMG! DUCK! There's going to be a rampaging woman with unusually huge breasts stomping through my blog at any moment! Run while you can! I've seen her smother people in those things!
Pat (my wonderful sister-in-law) seemed to be having a good time, as was my nephew Justin. I felt bad for him though, surrounded by all those 11 year old girls.
Justin loves aunt Jill
almost
as much as he loves his grandpa.
And look, there's grandpa now, having a conversation with my brother, Jeff. Looks serious.
Of course Mikayla had to have the most expensive kid's cake that Publix sells. That sucker set me back $50, and I thought it was going to be MUCH bigger. Here she is blowing out the candles with some help from cousin Alexa. Too bad Mommy forgot to light the 11th candle in the middle. Oopsie!
Looks like my Poopy Pants was enjoying the cake!
Ah, but of course opening presents is the best part of any birthday party! Mikayla got some great, hip outfits and uncle Jeff and aunt Pat got her just what she wanted. A hair streaking kit. I'm sporting some of those streaks right now. Silver, blue and pink. LOL
Her big present from us was a Wii. My father had never played, so this was his first time. Looks kinda stupid on film, eh? heeheehee! Sorry dad! I don't think he's ever sweat so much at a bowling alley!
So, a great day was had by all, and let me finish this post by saying that no bats were harmed in the making of this blog, although I almost had a heart attack a moment ago when one flew through the top of my HAIR, got to the door behind me, turned around and flew off. I'm not afraid of bats... love them in fact. But to be sitting here innocently blogging and have one nearly smash me in a the face was a bit pulse pounding! So now I not only have to have the camera with me everywhere I go in case something is blog-worthy, but now I have to have the camera with my WHILE I blog? This is just getting out of control!
Until next time, Justine :o )