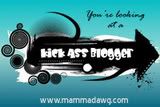 At least, that's what Elizabeth was telling me when she gave me this ultra cool award the other day. Ain't it the best? Now don't get me wrong. I love all the awards I've been given so far, but for a chick like me, there's nothing better than being told that you kick some serious blogger ass! Can you see me now? I've got my dukes up, and I'm in a fighting stance, kinda bouncing around like Rocky. I'm not wearing shiny trunks though. That would just be weird. Nope, I'm nekkid! Yep, nekkid boxing Tiney! Can you just picture it? Aw shoot, come back! Come back! I'm sorry! I was totally lying. I'm wearing clothes! Spandex with sequins, but at least I'm covered. Mostly.

I'm also suffering here, being eaten alive by skeeters the size of humming birds. That's what I get for having a horrible smoking habit and spending way too much time on the back porch typing away. I must taste delicious though, because I'm covered from head to foot in bites. I think I've even got one on my boob. Uh huh, I shit you not. And don't even get me started about the ones on my inner thighs. I don't even want to think of where else that damn skeeter had been exploring!
Okay, I've gone off on a tangent and am now all creeped out. So let me just end this post now with a huge thank you to my good friend Elizabeth from
Thoughts of an Evil Overlord
. Don't be afraid to visit her. I promise you she's not really evil!