Eyebrows that is. Yep, I've been cut, waxed, plucked and de-furred and I enjoyed every minute of it! First came the hair cut, and after a good 6 weeks, there was a LOT of hair for Larry to get rid of with his very sharp razor. He hacked away like a mad gardener going after weeds and gave me what we're calling a "modified Nicole cut". Nicole, being one of the final three on this season's Shear Genius.
He couldn't cut me quite as short as Nicole's hair because hers is fine, mine is uber thick, she's got a pixie face, and I've got, well, a fat face, I guess you'd say. Larry shook his head at my idea for straight bangs across and said it would only make my face look wider. So, we kept the swing bangs to the side, but he really went to town on the rest of my head. Have you ever had a razor cut? It's like a little scalp massage every time he chick chick chicks the blade through my hair.

At one point during the cutting of the side of my head, I heard Larry let out a little giggle under his breath. Since I hadn't said anything witty within the last
day
minute or so, I asked, "Larry, what are you snickering about?" To which he answered, "Oh not much. Just noticing how grey you're getting." Hmph! Is this what I pay the man for? Is he supposed to highlight my hair, or my downfalls? Every stylist worth their scissors knows it is their job... no, their
obligation
to make their client feel beautiful. Oh hell, this is me and Larry we're talking about. Who am I trying to kid? Anyway, this is what my hair looked like directly after the cut. No, he doesn't dry my hair. I don't know why that is, because I see him dry everyone else. Am I being slighted again? Or does he just know I don't have the patience to sit there long enough for it?
Did I mention Mikayla also got her hair cut? Yes, it was time for a small change for the middle-schooler. Brianna cut her hair and put in loads of layers and then some swing bangs at Mikayla's request. She insisted I take a picture of her with her new (un-dried) do. Here she is, the lovable Sweet Pea.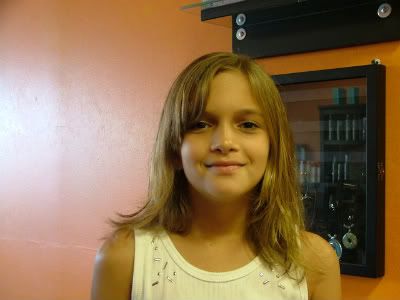 But now it was time for the hard-core stuff. The de-furring of the brows. You know I've been waiting weeks upon weeks for this, so there was excitement in the air. Okay, hairspray was in the air, but you know what I mean. Larry plopped me down in the reclining chair and started smearing on some hot wax. Ooh, that feels kind of nice!
And then he laid down the cloth and smoothed it out. That felt kind of nice too.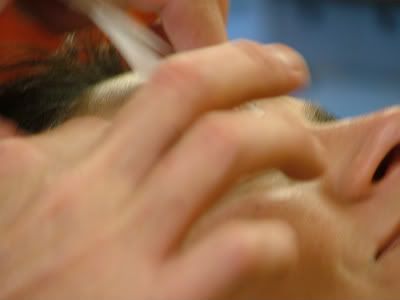 And then he
ripped
it off. And that didn't feel as nice.
And as he cooed and patronized me, he moved on to the other side.
And he
ripped
it off again! I swear I heard him snicker this time. And ooh, what is Mikayla doing? Another Diva shot? What is wrong with this child? Doesn't she see her mother is being tortured?
Ahhhh, we're done now, right? The torture is over? I can go home? No? What now dammit? Oh crap, here come the tweezers!
Pluck...
Pluck...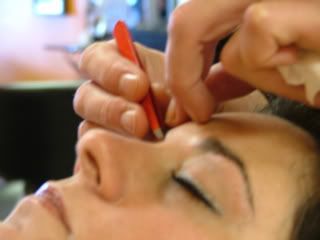 Pluck...
FU**!!!!!!!!! I've had enough!
Oh thank goodness, what is this stuff he's coming at me with? Sniff sniff. Mmm, it smells good. Ooh, ahhhhh, it feels good too!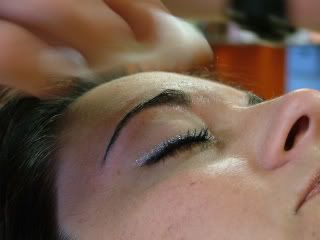 Whew! I do believe we're done!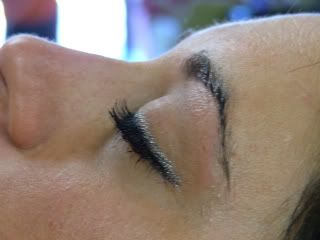 TA-DA!!!!!!!!!!!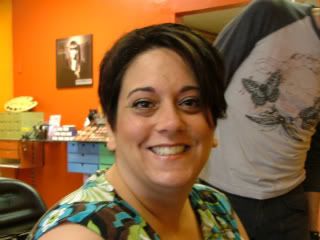 They're not exactly perfect because they just didn't grow in enough near the nose, but Larry did the best job that could have been done with what he was given. Kudos to Larry, the little shit who enjoyed my pain!
I guess you're wondering what my hair looks like dyed and styled, huh? Well, I just dyed it burgundy but it doesn't seem like the color took. Oh well, I did take some shots of myself in the bathroom mirror, but if I find these posted on Shelia's blog as diva pics, I'll hunt her down and break all her nick-knacks! I'm in my night shirt and I have
no
makeup on, but hell, you all have seen me look worse, haven't you? Here's my hair, sans poofiness!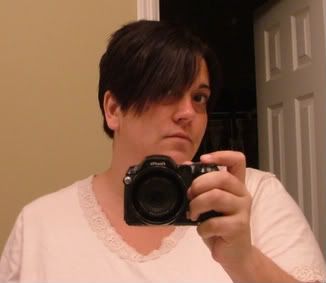 On this one I tried to edit out my dark circles, but I think I only accomplished removing my lower lid. LOL
Well this was a treat, was it not? Now don't think because there is a new post up that you can all sit on your laurels and forget about renaming my blog! Keep playing with those words, and think
edgy
!