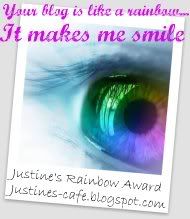 Recently, I've come to love quite a few new blogs, some of which I found on Blog Day 2008. I would like to take a minute to give this award to the very deserving authors. You're all so different, but brighten my days in one way or another, and I thank you for that! So please, grab this award and display it on your blog!

Alex at
My Quill and Pen
:
I've only known Alex for about 7 weeks, and in all that time she's been a very very sick girl. She recently found out she had an enormous tumor on her liver which was making her so sick she couldn't eat at all. She just recently had surgery and is recovering slowly. I'm looking forward to getting to know the healthy Alex!
Sistas #1 and #2 at
Holy Crappers
: This blog is not for the faint of heart. These sisters tell it like it is, holding nothing back, including the F bomb! Love them!
Rhea at
Texas Word Tangle
: Rhea's got a great sense of humor, a funny writing style, and plenty of stories about her two boys and life in Texas.
Donna at
Adventures with Tassie
: Donna and her husband are retirees and travel all throughout the country in their RV, Tassie. She takes fabulous photos of their stops and tells about the history of each place they visit.
Santa (does this chick have a name? LOL) at
Santa Maker's Journey
: Very fun to read, and Santa has a very weird obsession. Chairs. Yep, chairs of every make and style. You've gotta see how she can transform a piece of shit to a sparkling treasure!
Nikki at
Nikki Crumpet
: I realize a lot of you are already familiar with Nikki, but for some reason I had never visited her until this past week. She's got me hooked on her blog already!
Artie at
Color Outside the Lines
: Artie is such a doll, and has some of the greatest talent in decorating, gardening, hosting parties and finding hidden treasure in the trash. He can be rip roaring funny when he sets his mind to it too!
Kady at
Life on Bonnie Lane
: I wouldn't know where to begin trying to describe Kady. She's so many different things, wrapped up into one glorious person. I just love her to death!
Mary at
My Life in Scotland
: Mary is still brand new to blogging, has recently married and moved from the US to Scotland! You know she's going to have some great stories to tell. Her and hubby Luis live in a teeny tiny flat and don't even have a dryer for their clothes. Imagine living in a salt box and having to hang dry your clothes inside! EEK!
Thanks to all of you for giving me reason to smile, to think, to giggle and to learn. I hope you display this award proudly, because it's given to all of you in love.