I am lucky enough to live in a beautiful, deed restricted golf course community here in Saint Augustine, surrounded by some really great people, most of which I haven't bothered to get to know. While our house in the Tampa area sits endlessly on the market, we've been renting here in this community, and I suppose I feel like I don't want to get attached to people in case when we buy we don't stay here in the neighborhood. Stupid reasoning. I have a phone. I have a car. It's not like we'd move far from here in any case. Here's the entrance to my neighborhood. I blocked out the name for my own safety.

The other part of not making close friends is that I'm somewhat of a recluse. I suffer quite badly from panic disorder and the simplest thing, such as going out to lunch with a friend, is nearly impossible for me. Shopping with a friend? Uh uh, ain't gonna happen. I hate this part of me, but I've dealt with it for so long that it's just become part of who I am. The recluse. The anti social one. If there is a party, let's say next door at our friend's house, I'd probably go, but I'd wind up coming home on and off to decompress. It makes absolutely no sense because I'm surrounded by great, funny people. They're not in the least bit scary. But illnesses such as mine are not logical, nor are they based on reality. The fear is always there, whether I'm taking a ride to the supermarket, or strolling the aisles of Wal-Mart. If you've ever had a severe panic attack you can probably empathize with me at least a little bit. But hell, I've gone off on a tangent, and in the second paragraph no less! This is not what my post is about!!!!!!!
No, this post is about a great get-together our community had last night called Casino Night. I think we pay $500 a year in association fees to live here, and from that, only $33 a year is taken from each family to plan all the different social events in our community throughout the year. Last night's shindig cost us absolutely nothing. We were just asked to bring either a dessert or an appetizer. The clubhouse was set up like a casino with oodles of blackjack tables, a craps table, and a roulette table. Outside in the breezeway was poker. There was plenty of alcohol to go around for mixed drinks, a keg of beer, and lots of water and soda for those of us who don't partake of the good stuff. Imagine that. We paid nothing, and there was an open bar! Plus, you are given $20,000 of play money to gamble with. This is not usually my type of thing. A huge crowd, loud music and gambling. But ooh, I really did have fun! I got semi dolled-up, walked in there and was instantly welcomed by people I know, and then throughout the night met so many more people I didn't know, who turned out to be so nice! Of course, more than half of them were juiced, but they were still nice!
Pic of me and Jimmy just before we left home.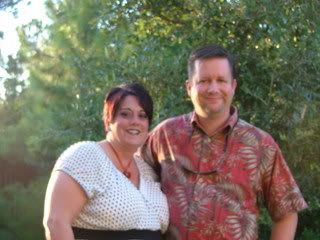 Here's a picture of Tracy gambling. Now, I barely know her as of yet, but she kind of adopted me last night and seems to think I should join the community planning commitee. If only she knew what a stretch that would be for me! But we'll see. I told her it might be worth it just for the bullshit factor. Tracy is in the black spaghetti strap shirt. She's married to Jimmy's good friend, John.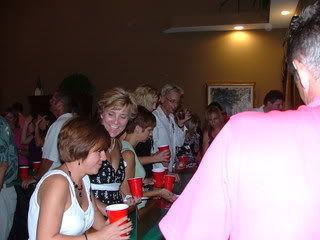 I actually had a great time gambling too, and made a profit! Here's me and Jennifer. I have no clue who the hell she is. She came to play next to me and I made Jimmy take a picture of us. You can see by the look on her face that she's wondering why this insane woman has her arm around her, taking a picture. Little did she know I was probably among the 5% of people completely sober!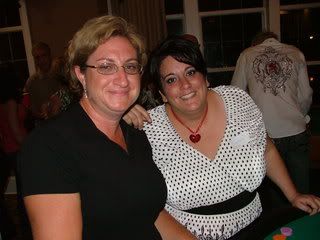 Larry was there, and wearing the coolest shirt ever! I wish I could say the same for his footwear. He was wearing the gaudiest pair of white cowboy boots I've ever seen. I think they even had rhinestones on them. Damn, I really wish I would have snapped a picture of them. Would have given y'all a good giggle. On his left is Grisel, and on his right is Michelle. She's one of two Michelles I know, so I call her black Michelle. LOL
Here's a pic of the back of Larry's cool shirt.
Jimmy and John played at the same blackjack table all night, and OMG, a woman that was playing with them the whole time thought they were a couple! Gee, I wonder, can you imagine why?
My friend from next door, Grisel, on left, and Michelle, (white Michelle...heeheehee) on right.
No clue who these chicks are, but they seemed happy, so I snapped! Oh wait! Lady in the pink shirt is the one that thought John and Jimmy were "together". That's probably why Jimmy popped her some bunny ears.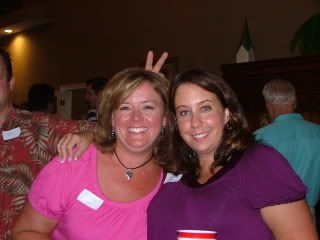 I even took a very quick video so you could hear how loud it was in this place!