123 We're Broke Avenue, Mortification, FL 00000. Tell me my blogger friends, when you see this face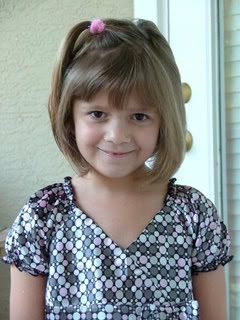 what comes to mind? Sweetness and light, correct? A darling little girl who can do no wrong and always makes Mommy and Daddy proud, right?

WRONG
!!!!!!!! Oh so very very wrong indeed!
Today, when Mikayla got home from school she told me that while she was walking to the bus stop early this morning, our neighbor, Mr. Dave (better known as Boston Dave) was riding his bike and stopped to have a chat with her. He asked her if she had any idea about the notes her sister had been taping to every one's doors. Mikayla was clueless and asked what they said. What they said was this: "We're broke! Can you please help us? Here's our phone numbers! ..." I shit you not, bloggers!
Now this could be construed as funny, had it only been on Boston Dave's door, but no, Madison put it on every door in the two cul-de-sacs we're connected to! Dave kept asking Mikayla, "Are you sure your parents don't need some money for groceries or something?"
Later in the afternoon Mikayla bumped into our neighbor, Tina. Tina said that on her note Madison actually listed things that each of us could possibly use. I didn't even ask what was on the list... I truly don't want to know! I can just picture it now: "Mommy could use a 6-pack of panties because she doesn't do the laundry enough and has to go without wearing any sometimes. Daddy could use a barrel of flax seed for his
life change
and my sister hasn't gotten a new pair of shoes for three years and now her feet are shaped like arrows. The cats are so hungry they're eating their own dingleberries and fur balls.
Didn't I tell you Jimmy is always chanting, "We're broke!"? Huh huh? Didn't I? Can you imagine the mortification we're feeling right now? I swear, if I start finding fruits and veggies in my mailbox and cash donations at the door, I'm moving!