You guys, I'm so sorry for being so absent the last few days. I didn't mean to worry any of you, but since I received emails and comments to that effect I know I did. Sowwy!!!!!!!!!!!

The sleep study went okay, I guess, although I didn't sleep well. It's hard enough when you're hooked up to all those wires, but add a tight-fitting mask to it and it's nearly impossible to sleep comfortably! Funny thing though. Remember I was going to a different sleep study clinic this time? Well, I walked in the door and who is sitting behind the counter? No other than Larry the Sleep Study Guy! I tell you, I have such class. The first words out of my mouth, were, "Holy shit! What the hell are you doing here?"
Anyway, I took some pictures for all of you. Here's the infrared camera that watches me all night.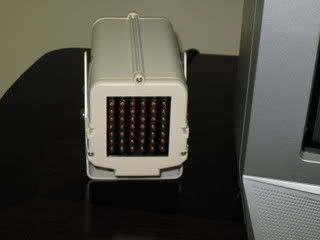 And here's the machine that everything is hooked up to.
And the mask I'd be wearing.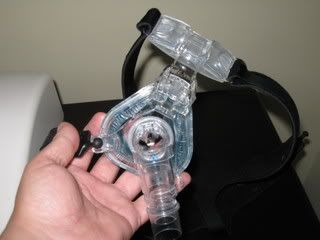 And my leg. Okay, okay, I was getting a little bored! Look at how dry my skin was! But, no lotions allowed for the sleep study!
After I got all hooked up, Larry took a pic of me. Now please keep in mind that I was not allowed to use any hair products or wear any makeup, so this is me in my natural state, which is always scary! Oh, and all those straps aren't exactly good for hiding fat rolls either!
Anyway, I've been feeling really darn awful, which is part of the reason I haven't been a very active blogger these past couple of days. I was feeling awful last week, but I swear, after finding out how bad my apnea is, I feel worse! Not only am I exhausted, but I'm as weak as a newborn kitten. It's really kind of scary, and even though that damn mask is so umcomfy, I cannot wait to get one! I'll let you know when I get the results of this study, which will determine the amount of air pressure required to keep my airway open while I sleep.
And thank you to everyone who has been thinking about me and saying little prayers for me! I love you guys!!!!!!!!!