I cannot believe this. It's my 100th post, which is supposed to be a big deal here, right? Well, I've got nothing to write about. Nothing! I could tell you that within the last day a million baby frogs have transformed and have been hopping all over my patio, and OMG, they are soooooooo cute. I'm talking teeny tiny  little things that are about this big --- from nose to butt. Two nights ago as I was sitting here typing, this little fella hopped onto my leg and I just happened to have my camera ready. He's not a tiny baby, but he is small.

Ooh, Madison just found this little guy hanging around. He's very tiny, but don't know if that shows up well here. Yes, that chair he's sitting on is covered in green mold. These chairs are not used at all!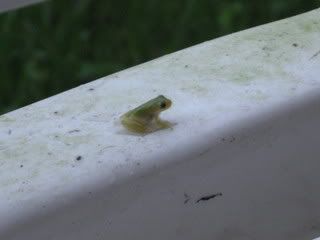 The other night I made Jill take a pic of herself to show me how her haircut came out, and I thought it was a pretty picture of her. Aside from the fact that her camera was on the wrong setting and she's yellow! But she did take the picture in her bathroom mirror, which gives her, what? DIVA STATUS! I wish Shelia was around to see this... she'd be so proud of my sis!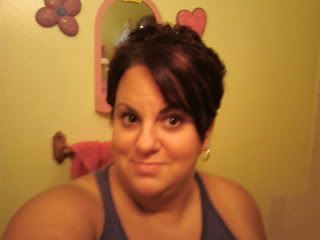 Now I have a question for all of you. How pathetic is it to be so lazy and aghast at doing laundry, that a person (not me)
I lie! It was me!
would go
three
days without wearing panties? Is that totally pathetic? Sad? Disgusting? Mental?
My 100th post. I should win an award for this one!