Oh, this just sucks! I mean really really bites the big one. I've got Blogger Block! And not just an itty bitty case of it, but serious blockage. I think I may need some creative Draino or Liquid Plumber, or even a partial lobotomy. I'm even having trouble writing a blog post ABOUT my Blogger Block! I can now sympathize with published authors and the terror they go through when the juices stop flowing. Imagine how this would feel if my livelihood depended on my blogging abilities!

There's just nothing interesting or funny going on in my life right now. I haven't gotten the results from my sleep study yet and I'm frustrated because I want answers. I'm tired of being tired all the time, and doing nothing but sleep and read emails. I'm a slug!
Ooh, ADD moment!  And speaking of slugs!  Look at what I found on my patio chair this morning! Isn't he disgusting?  A slug with a shell!  LOL
But I'm so thoroughly impressed with this new camera I won. Look at how close up I was able to get. You can see every bitty bump on him!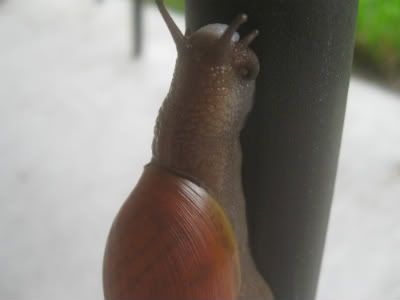 I have thought of one thing I can share with you all. I could mention that Jimmy is starting some crazy diet thingy on Monday that is supposed to be
life changing
. It's called, get this,
The Power Challenge.
I shit you not. Click on it and go see. I haven't, but I guess I probably should being that this "diet" is going to take over his life for the next three months. Here's what the web site has to say about the program:
The Power Challenge is a comprehensive, 12-week, intensive and competitive health and fitness program designed to lower corporate health care costs by helping CEOs, key executives and their employees achieve maximum health and wellness. The program is also a proven and fun vehicle to teach those involved that there is nothing more important than your health.
What I do know of it so far is that we can expect Jimmy to lose at least 30 pounds, gain tons of muscle mass and basically get in the "best shape of his life". Four times a week, at 5 a.m., he will be brutalized and tortured by a personal trainer for
two hours
, before putting in a 12-14 hour day at work. He's then expected to eat six small meals a day, but absolutely no beef or pork during the next three months. Only fish, chicken and turkey. Oh, and eggs. Dozens and dozens of egg whites. He's actually got plans of going on his own food shopping expedition tomorrow, which I'm sure will cost hundreds of dollars. But hey, this is
life changing
, right?
And did I mention that this program has a cost of $2,000 and that his company pays for it? They're obviously trying to make their image more progressive, and I guess they're doing a good job of it so far. I imagine they figure, healthy employee, happy employee. Only time will tell, I suppose, but I have seen quite a few pictures of other employees who have been through the program, and the results are astounding. Sagging beer bellies and man boobs miraculously turned into six packs and bulging pectorals. If they can do it, why not Jimmy? Here's a picture of one of the guys he works with at the beginning of the program.
And this is what he looked like 12 weeks later. I did giggle a bit when I noticed he'd shaved his chest for the photo. But holy rippedness! Does he look amazing, or what? He obviously didn't have a weight issue to deal with but he sure did improve himself! I could sit here and paste pics all day of some of the people Jimmy works with and you would be amazed at the difference just 3 short months made.
But how will this affect my life in the kitchen? God only knows, because Jimmy is hard enough to cook for as it is because he's rarely home for dinner anyway. I am not the type of wife to put on an apron at 8 p.m. and start cooking my beloved a gourmet meal. So, if he's still planning on keeping these hours, he'd better also plan on cooking his own fish/chicken/turkey/egg meals too!
And dinner tonight! Oh my goodness, it was so hard not to pop him one across the table. All day he's been reading his Power Challenge binder and soaking up oodles of healthy eating information. For dinner tonight I made an enchilada casserole. Under his breath I heard, "
We eat like shit in this family.   We're all gonna die if we don't change the way we eat.    Kids have got bad habits.
"  Can you imagine the comments I'll have to live with when he actually
starts
the friggin' diet?  If you happen to open your newspaper one day and find an article about a man being castrated with a blunt butter knife during dinner, that'll be my story you're reading!
Well, at least I found something to write about, but I certainly don't feel that this is the end to my blockage. I need funny, witty, giggle-worthy things to write about!
Hello,
god of the funny bone
? It's me, Justiney. I'm sorry to bother you, but this isn't important enough to bother God with, so I'm left with only you, the god of giggles. Could you please send some funny shit my way before I lose my readers? Please? If you do, I promise not to curse you the next time I hit my elbow on the counter!