I was so excited yesterday, because finally, I was getting my sleep study done to determine whether I have sleep apnea, and if so, how bad it is. That excitement quickly turned to concern when I realized that the only people in the building were me and Larry the Sleep Study Guy. Now I'm not a wuss, don't get me wrong, but to know that I'd be sleeping in a strange place with just Larry the Sleep Study Guy watching and listening to me all night was a bit disconcerting. But yeah! A little while later another employee came in and it was a female! Sort of. If I had to guess at her name, I'd call her Butch. But anyway, soon after another patient came in too, so I was way more comfortable with the whole sleeping in a strange place by myself thing.

I did have some free time before I was going to get wired up, so I mostly spent that time reading and avidly watching the Weather Channel as Ike pummeled through Texas, where my good friends Buffie and Janet were riding it out.
I really wanted to take a bunch of silly pictures of myself with all the leads and wires hooked up to me, but Larry was not the most talkative, fun person I've ever been around. Basically he had the personality of wet sand. He did say he'd take some pictures of me once he had me all wired up, but it never happened. He automatically guided me to the bed, and that was that. Once the wires were all plugged in, it was either lay down and try to sleep or mess up the whole test. Felt kind of odd being tucked in by some strange guy too. Where's my bedtime story dammit?
Bloggers, I really am sorry that I've probably devastated you by not having pictures of me in all my wired glory. I have failed you and I know it. But I did get two silly pictures of the room. First, here's my bed after I took off the mountain of pillows they had it decorated with, and turned down to go nite nite. If this picture was posted on RMS, I can already hear the comments. "The pictures are up too high and too far apart. You need to move them down." "Lamps! Ambient lighting is so important in a bedroom!"
And here is one of the two cameras that would be watching me all throughout the night. At this point I hadn't found the infrared camera, so I didn't get a picture of it for you.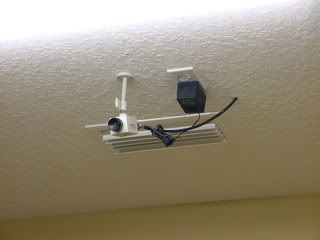 Ooh, fun bloggers!!!!!!!! I just went to Google Images and looky what I found! Here's a pic of the machine that all my wires were hooked up to.
Now this next one is a real trip, because I found a picture of a woman taking her own picture in the bathroom mirror, all trussed up like a turkey! She's a Sexy Sleep Study Diva! Heeheeheeeeee!
Yep, I really had that many wires coming off of me. I had either 4 or 5 in my hair alone, and having those put in really sucked because Larry the Sleep Study Guy obviously doesn't realize his own strength. He used some sort of pen to mark the spots on my head, but I swear, it felt like he was going to slice right through my scalp. Not just one or two swipes with the ink, but over and over again, pressing down
hard
. It only got worse from there. Then he had to "de-oil" the hair and scalp with some sort of solution on a "cloth" that felt like high grit sandpaper with rock salt stuck to it. Oh my, he rubbed that shit so hard I thought I was going to cry. Then, while sticking the leads to my head, he felt the need to
squeeze
each one to my skull until I was worried of a skull fracture or brain swelling. I swear, I wanted nothing better than to turn around and punch him in the balls!
The rest of the wires were painless, thank goodness, but they were all over me! On my face, under my ears, on the top of my chest, the top of my back, and one on each shin. Then he taped an oxygen meter to my middle finger. Hmph. What I could have done with THAT! Last, he put an oxygen thingy up my nose. Kind of like the kind you see in the hospital but skinnier, and I don't think it was releasing oxygen, but instead monitoring my breathing through my nose. All of this and I'm supposed to have a restful night's sleep!
I woke up quite a few times. The first at 11:40, to go Potty. "Oh Larryyyyyyyyyyy"! Then not including all the tossing and turning I did, careful not to pull out wires, I woke up at 3:15 having to pee again, but I didn't want to get up, so I forced myself back to sleep. Woke up again at 4:20 (I was checking the time on my cell phone by the way) and realized the test was almost over and I felt like I'd barely slept at all. Larry the Sleep Study Guy woke me up at precisely 5:00 a.m. and my sleep study was over. Whew! I was home by 5:30 and chugging down coffee while catching up on blogs. Ahhhhhhhhhhh.