I think I mentioned in my last post that Jimmy would be making a food shopping trip this weekend to prepare for his upcoming life change, right?  Little did I know this was going to be a 3-1/2 hour power shop with the girls in tow, and include many items I never realized we just had to have for a person to survive on a diet.

The girls came in the front door, followed by Jimmy, who of course was gabbing away on the phone.  I watched in awe as Jimmy made trip after trip from the car to the kitchen, each time making my blood boil just a little bit more.  By the time he was done I swear there was steam coming out of my nose and ears.  Why should I care how much stuff he bought?  Well, this is a man who will tell me how broke we are if I say I'm in need of a pedicure or a new pair of shorts, but suddenly he's doing something life changing and apparently found a money tree on the way to Costco?
I took some pictures of all the stuff he had piled up on the kitchen table.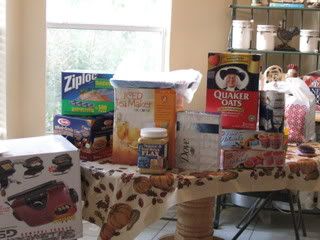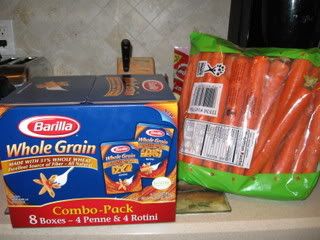 And then I walked down to the foyer.  O...M...G!!!!!!!!!!!!!  There was a LOT more stuff that he hadn't brought to the kitchen!  So I took pictures of that stuff too!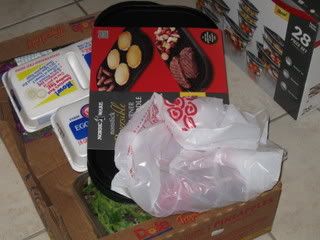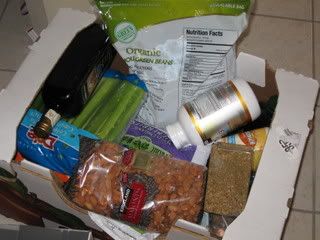 And even though I have an entire cabinet full of Tupperware and the like, he bought yet another box of containers!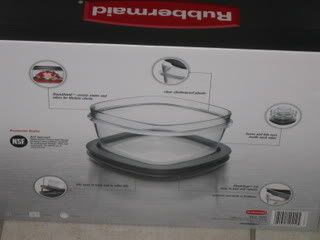 If you looked closely enough, you saw that he bought a griddle type thingy that can be used on a smooth-top stove. But that wasn't good enough, I suppose, because he also bought a huge Foreman grill which will now take up a big hunk of counter space in the kitchen. And since he's basically off sugar for the next three months he also found it important to buy an iced tea maker, which I'm guessing will also get a spot on my very limited countertops!
And the EGGS! For goodness sakes, I had to boil 36 of them for the week!
I'm just glad I didn't have to peel all of them!
Oh, but wait, it doesn't end here. No, now I take you to the freezer in the garage. The freezer that was empty except for some containers of sauce. This is what it looks like now!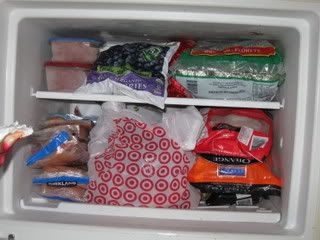 Tons and tons of chicken breasts and different kinds of fish. Granted, when you buy this stuff at Costco you're getting a really great deal, turning out to about $2-$3 per meal meat-wise. But to buy three months worth of it at once? Holy geez! Did he score on a lottery ticket and I'm just unaware of it?
And then there's the freezer door. He sliced and diced all kinds of peppers and various veggies to freeze and use for cooking later.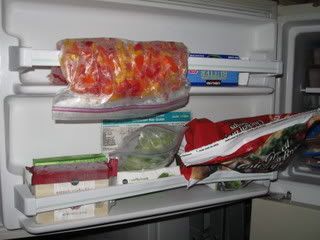 I'm proud to say that when I questioned his spending he was honest and told me, "Over $400." But come on! I haven't even done the food shopping for the rest of the family yet this week! And I swear, the next time I hear the words, "Don't spend any money. We're broke!" I'm going to shove a whole tuna steak up his
ass
!