I am totally bored and I have no email to read. I'm used to waking up to at least 50 or so, but noooooooooo not this morning. Only a few. Boring! And since I have absolutely nothing of interest or importance to blog about, I figured I'd just chew your ears off talking about nothing in particular. Doesn't that sound like fun?

Latest news here is that our most recent realtor contract is up, and after another blasted 6 months on the market, our home in the Tampa area STILL has not sold. It's been on the market for nearly 22 months and has gotten lots of good feedback, but not one offer in all this time. Wrong price? Wrong realtor? Just wrong? Argh! The aggravation of it all!
I've found a realtor online who sounds very aggressive and has given me some great information, but of course Jimmy has someone else in mind. I've passed on the information from "my guy" and will now leave it up to him to make the final decision. Again. Meanwhile, for the past 22 months we've lived on one salary, paying two mortgages, two electric bills, two water bills, lawn maintenance on the Tampa house, blah blah blah. Someone stick a fork in my because I'm WELL done. Here's the MLS number if you're curious. T2305227. Yeah, I'm not too interested myself anymore.
What else can I ramble on about? Let's see, I still haven't gotten the results of the latest sleep study, and am awaiting them anxiously, and I do mean
anxiously
. It seems that each day that goes by I get a little more exhausted and a lot more weak and unable to concentrate or think clearly. Driving the girls back and forth to their various activities has been pure hell on me but I'm trying to motor through it. I just keep telling myself I'll get my CPAP soon and start feeling better.
Poor Jill. The other day she had her dogs (5 of them then) outside playing when she heard her little ones barking. She didn't think much of it because hey, they're dogs. They bark. But after a while she called them in and no Liloh. Jill went searching and found Liloh, dead, in the back yard with big bite marks through her abdomen. For years now they've had problems with the wackos next door and their big Rottweilers who constantly get out and jump Jill's fence. Just last year the same dog killed her brand new poodle puppy, Hershey, and Animal Control basically did nothing.
Jill immediately called the police who of course couldn't do anything, and a call to Animal Control was a dead end because they don't work on Sunday. So she called again yesterday. Apparently there's only one AC officer who is able to handle this situation in her city and he happens to be out sick. I tell you what, if Jill doesn't get some kind of justice she's going to call the media in. How can they allow this dog to kill two innocent puppies within a year? I love dogs and all animals, but this one needs to be taken away from the family and put down. As do all their dogs. They keep them outside in all kinds of weather, oftentimes with no food or water, and just basically neglect them. And what if it had been one of Jill's children that the Rottweiler decided to attack instead of a dog? OMG, I can't even think of it.
Jill is just shattered. We all are. RIP little Liloh. Aunt Justiney loves you always!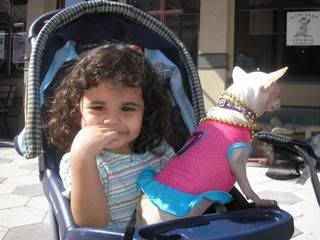 Ah, but that's not all Jill is dealing with. If you've been with me since the beginning, then you know that Gianna has a rare condition called Cornelia de Lange Syndrome (
cdlsusa.org
) and with that her health is always in the balance for one reason or another. But this latest has every doctor so far stumped. She's been running a fairly low fever (between 100-101) for the past
month
with no let-up. The child is so exhausted from it, and whatever is running through her body that she's only awake for about four hours out of each day. All she wants to do is sleep. Her pediatrician has run the gamut of tests on her, from cat scratch fever, to cancer, to lupus to lymes disease. Everything comes back negative except for showing signs that there is some kind of virus running through her. The next step is an infectious disease doctor, who just yesterday told her they can't be seen until the end of November. Excuse me????? The child has had a fever for a month, has a rare syndrome, and this isn't considered a priority? Jill's pediatrician, who happens to be wonderful, is taking over and trying to get her an appointment within the next week, but none of us are holding our breath.
Okay, have I chewed your ears off long enough? Are you still awake? Eyeballs getting dry and itchy? Okay, I'll shut up now. I'll leave you with this. Jimmy has lost 9.2 pounds. In one week. In. One. Week! Somebody just shoot me now, because the latest? Cheese is
evil
! Grrrrrrrrrrr.