Remember I told you that Michelle, the respiratory therapist would be coming back this week to fit me with a different mask? Well, she stopped by yesterday and I chose the same kind of mask that I had worn for the sleep study. I tried it on and it felt fine, so I gave her the "nasal pillow" back, and took this one. Well! I want my snausages back!!!!!!!!!

This thing is awful. Awful I tell you! When sitting upright, it's not so bad. But the moment I lay down it's so uncomfortable! It digs into my cheeks, it practically covers my upper lip, and it pokes me in the corners of the eyes!!!!!!! And did I mention it smells? Yes people, it IS like having an athletic cup over my face.
Just turn it over so the pointed side is facing up, and there you have it!!!!!!!! Look, I even took a picture of me pretending to sleep so you can see!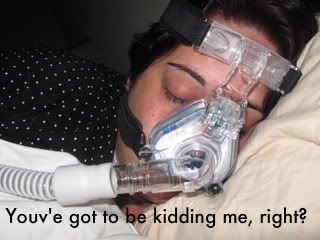 Hell, if I'm going to wear a cup over my nose, I'd prefer it looks like this...
Somebody should have bikini waxed him before they snapped this shot though, don't you agree?
Anyhoo, I've got Michelle putting my snausages in the mail, so hopefully I'll have them within a few days. I can't wait to get rid of this damn thing!
On a brighter note, my good friend Frenchie at
British Colonial Love Affair
gave me this beautiful new award. French, you are such a special person, are so filled with love and talent, and I am so honored to call you a friend. Thank you sweetie!
Now of course, dontchya know there are RULES that come with this award. I'm supposed to write about 6 things that I value, and 6 things that I do not value. So, here goes nothin'.
I Value:
1) My children and the joy they bring me each and every day. Even though Madison frustrates me by striving to be the very best liar on the planet, her smile and wit never fail to make me smile. And even though Mikayla is going through a case of puberty from hell, her saucy attitude and brilliant mind make me the proudest mama on earth.
2) The relationship I have with Jill and the joy it brings me. With Jill I can just be me, no pretenses, no makeup, no bra... just me. Who wouldn't want a sister as a best friend? And one you're so comfy with you don't mind if she comes in the bathroom and talks to you through the glass stall while you're showering?
3) Friendship. It's true that I don't have many "in real life" friends, Sinead being the exception, but I have made such good, strong friendships with so many women online (and a few men too!) that I never really feel alone.
4) Honesty. It's one of the most important things to me, and something I strive to be at all times, unless to spare a person's feelings. Even then I feel guilty if I tell a fib. This honesty thing has gotten me into hot water more times than I'd care to mention but at least my conscience is clear.
5) Financial security, which we barely have right now, but we've definitely got it better than oodles of others. Just knowing I have a roof over my head, food on the table, and clothes on our bodies is a good thing.
6) Coffee. I know, I know, it's shallow, but I'm sorry. I do love my coffee!
Things I don't value:
1) Dishonesty. And not just things that affect me. I'm not naming names here (ahem), but if you've bought a 2-pack of enemas and you use one, and then return the other, saying the first one leaked, when in fact it cleansed you quite well, I find that dishonest and unethical.
2) People who judge you just by the way you look. Whether you're fat or thin, black, white, or purple, whether you're a dwarf or mentally disabled, you deserve the same kindness and respect as the person next to you.
3) Racism. A bit different than #2, but along the same lines. Don't hate all Muslims just because a bunch of fanatics attacked us. Don't cringe each time you see an Arab person. They probably feel even more disgust than you do about what happened on 9-11.
4) SHIT! I'm stumped. I know there are plenty more things I could list, but I'm having a major brain fart that won't go away. You'll just have to accept 3 things I don't value!