This Saturday, my in-laws came to visit with their best friends and their best friends' dog, Zachary. We hadn't seen them since July so the kids were anxious to be with their Mom-Mom and Pa, and Mom-Mom and Pa were anxious to be with the girls.

The reason for this impromptu visit with their friends was to bring us their "old" entertainment center that they no longer need since my fil bought his flatscreen tv. I think it was very hard for them to part with this, because it's an expensive piece of solid oak, but part with it they did. Loaded that puppy up on their friend's truck and drove it 3-1/2 hours to my house. I've never in my life gotten attached to a piece of furniture but my mother-in-law gets very sentimental with even the most mundane of inanimate objects.
So now this entertainment center has a new home in my bedroom. I've been married 15 years now and we're still using my bedroom set that I got when I was 14. It's cheap particle board crap and is falling apart, but we've just never made it a priority to make our bedroom anything special. I wonder if I'll ever have a true bedroom set. But at least now I can say I have one decent piece of furniture in the house, even if I do hate it. Yeah, you read that right. Why do I hate it? Because I absolutely abhor oak. All that grain? Blechhhhhhh! I think black paint is somewhere in this piece's future, although my in-laws will probably have a heart attack when it happens! Here's a picture of it.
Awww... look at that fat little rooster my in-laws brought me! And do you RMSers remember HENry? He's got a new home now! Yeah, I know the lamp soooooooo does not go with the roosters, but it's all I have right now.
Throughout the day Madison and Mom-Mom were working on a project. Madison got to sew her own stuffed puppy. Here she is concentrating hard, with Mikayla in the background, texting her aunt Jill.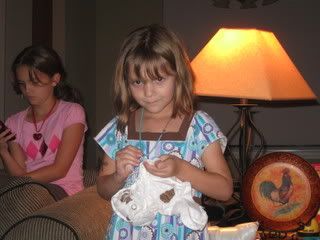 And who wouldn't want to see a picture of a really cute dog? Here's Zachary!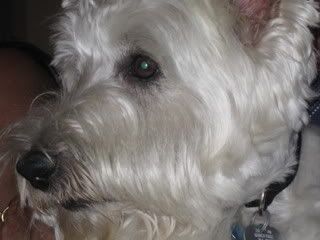 And just to make Shelia smile, here's another diva picture of me.
I know, this was such a boring post but I'm not yet ready to post about my CPAP machine, so I had to give you something to read so you'd know I was still alive and kicking!