Okay, not really, but that's what I've been calling the new CPAP machine in my head. Strange things go on in there from time to time, as you well know by now. Let me just start by saying that the respiratory therapist that came to my house was a complete doll. We jabbered like a bunch of hens in between lessons on CPAP usage. It's a good thing I liked her, because she has to come back this Thursday. Why? Because the mask I chose, which isn't actually a mask, SUCKS.

They fancifully call it a "nasal pillow", which to me conjures up visions of little puffy clouds resting gently on my nose, puffing little gentle fluffs of air into my passages. NOT! It's more like having two silicone snausages stuck up my nose, blasting air up there like a damn turbine. The straps hold it in such a way that my nose turns into a snout and aches like a bad bruise. I swear, if I use this thing for an extended length of time my nose will permanently be stuck in the snout formation and I'll look like Miss Piggy.
You think I'm kidding? No no bloggers. I shit you not. To prove it, here's a picture of Mikayla wearing the silicone snausages. She's doing her Achmed the Dead Terrorist impression while I'm taking the picture, hence the scary eyeballs.
Now I ask you, does that in any way look like a comfy cloud blowing gentle breezes up thy nose? We'll get to the pictures of me in a minute. Okay okay, I'll be honest. I haven't taken them yet so I'm saving this post for later. Hey, I've been busy, okay? Shit to see, people to do, you know how it is.
Thursday was my first night wearing this contraption and it didn't go well. I can't seem to get the "pillows" to sit properly, so the air is either going straight up to the top of my nose, or down toward my upper lip. I can't tell you how many times I woke up to change the position and try to wiggle the ache out of my schnoz. Nothing worked and by 4:45 a.m. I gave up. Threw the mask across the room
that's a lie because the hose wouldn't allow it go that far
and got up to have a cup of coffee. Later, when I took my nap I ripped it off after an hour. I couldn't take it anymore!
Friday night went no better, and in fact, worse. I kept it on from 1 a.m. until 3 a.m. when I got up to pee and then couldn't get it to sit right again. CRASH. Threw it onto the nightstand and snored my little heart out the rest of the night. And did I mention you cannot open your mouth when this thing is on? Well, you can, but when you do a stream of air comes shooting out of the throat in an odd way. Think of a dragon blowing fire out of its mouth instead of its nostrils and you'll have the right idea. It's the weirdest frickin' feeling and not the least bit pleasant. Now some who wear a CPAP may not agree, but my setting is very high... at a 9, whereas I think most people have an air flow pressure of 5 or 6.
I'm probably going to try it again tonight, but I know it won't be a success. At least the mask I wore at the sleep clinic stayed in place, I didn't have to jiggle it around at all and it didn't squash my cute little nose. It's larger and more cumbersome, but I think I could get used to that. Remember that mask? This is what it looked like.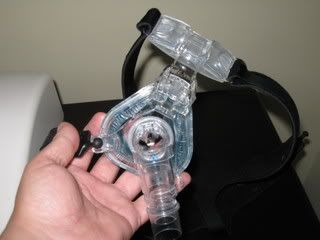 ... The next day...
Well, I tried again last night, and once again it was a big fat bust. I managed to keep it on for a few hours before I carelessly flung it away from me. My nose! My nose! It was aching like a bitch! But I did promise y'all some pics of me wearing this damn thing, didn't I? So, this morning before I went back to sleep for my nap, I shot a couple pics of myself. Now you may be wondering why the hell I'm wearing sunglasses. Have you ever seen me in the morning? My eyes are bloodshot and so puffy it looks like I'm toting decorative pillows under my eyes. So, the glasses were to kind of spare you from an overwhelming fright. Hell, they're bad enough as it is, aren't they? And I just had to cock (heeheehee.... that word just makes me giggle) my head like that so I'd look like I have 5 rolls in my neck!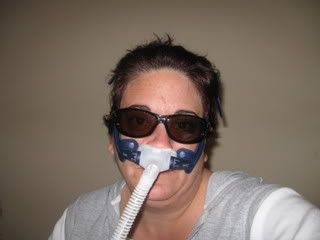 And just to gross you out a little more, I got the camera a little bit closer.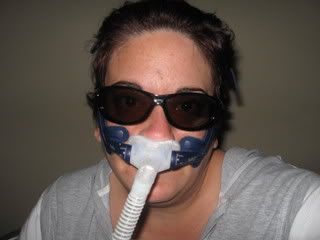 I look a bit like Hannibal Lechter, don't I? Imagine having to wake up and turn over to face that! And do you see now what I'm talking about? Look at how it's squishing my nose! And squishing it crookedly too! I hate this thing and the respiratory therapist it rode in on. Yes, I said I liked her at the beginning of this post but how can you love someone who brings you such a torture device and tells you you're going to "feel soooooooo much better", then feel worse than ever? CPAP BLOWS! Both literally and figuratively!