Jill, Mark and the girls came over today on their way home from the Ronald McDonald house and will be spending the night here, and then coming to the block party tomorrow. I swear, I don't think there's a time I'm around Jill when I don't wind up laughing just because of her innate stupidity and garbling of the English language. Bottom line? My sister cracks me up and she doesn't even mean to!

So anyway, they got here, and Mikayla and Gianna were hanging out on the patio door step, so I took a few cute shots of them. Here they are. Yes, that is a lamp-less, vignette-less table behind them!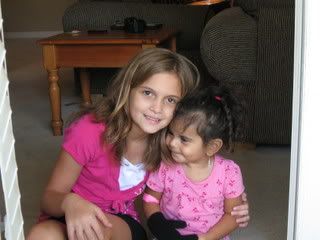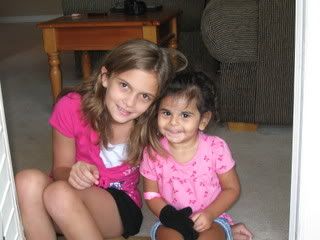 As is our usual habit when they all come by, Jill and I go our separate ways for nap time; her with Gianna, me alone in my nice big bed, and Mark in charge of Madison and Alexa. Meaning he watches tv on the couch until he falls asleep.
When we woke up it was time to leave Mark all alone (to lay on the couch and watch tv until he falls asleep) and go out to eat. Jill and Mikayla decided it was a Mama Fu's night. Great little Asian place with excellent food. We decided to eat outside tonight because it was sooooooooooo nice out. Jill would NOT let me take any pictures of her because all she had on was mascara. Gimme a break!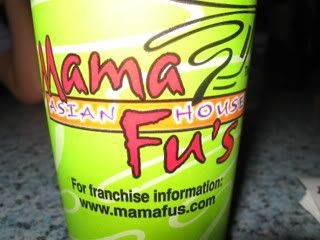 I tell ya, sometimes I wonder if Jill and I even come from the same gene pool. I've never heard anyone mess up their words as much as my sis. Well wait, that's not true. My father is even worse, always has been. He always uses the excuse that he's from the Bronx, as if that excuses him for changing the names of popular places into his own names. Take for instance the restaurant, Ruby Tuesday. He'll call it Sunday Monday. Or Ruby Thursday. Steak and Shake? Shake and Bake. You get the picture.
Jill does this with every day words, not places usually. While we were driving to dinner, she was telling me how Zoe (my youngest cat) bit Gianna today. She said, "I looked at her hand and it looked like a
hyperderper
went into it!" I said, "WHAT????? A hyper-derper????????" Not five minutes later she was complaining that she left Gianna's shoes at the house and I would have to stop somewhere so she could get her new shoes. I told her tough shit, I wanted to eat. She said, "But I can't go into a store without my shoe feet!" OMG, where did she
come
from?
You would think that was enough for one night, no? NO! When we got to Mama Fu's and she was taking the shoeless baby out of the car, she said, "Now I feel like a
bornafide
redneck." Oh my, we just couldn't stop laughing. See, she realizes the second it comes out of her mouth that she's screwed up. She just can't seem to help it.
So we ate our dinner and we wrote down her stupid "Jillisms" in my little notebook. I took a few shots of the girls. Here's Madison looking a little rough and needing a hair cut.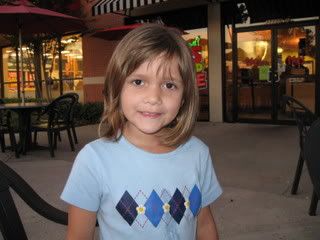 And Alexa, who amazes me every time I see her because she's getting thinner and thinner and looks so good. Last year she weighed in at a whopping 72 pounds from medication she was on. Her face was so swollen looking it was horrible. They changed her medicine and since then she's lost nearly 30 pounds!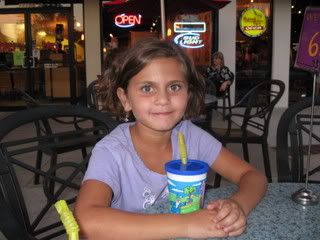 Jill asked me to take a close-up of her eyes. They really are beautiful. It's amazing that she even has eyes this color, being that her father is half black, half white, and we're very dark-eyed Italians.
And my adorable Poopy Pants, trying to escape from her highchair.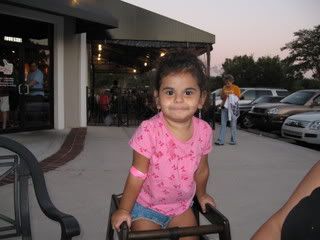 One more Jill screw-up. We were driving from one store to another, and she had just used her cell phone. A minute later she needed it again and could not find it. She just kept saying, "But where is it? I just had it?", going crazy trying to locate it. Then she cracks up laughing and says, "Oh here it is! It's in my bra!" Oy, for the love of Pete!
Our drive home was a noisy one, and I really wish my camera had more memory on it so I could have at least recorded the noise level Jill and I had to deal with. First, Alexa started with her barking. She truly does sound like a small dog when she does it. Then Madison chimed in with her very convincing cat meow. Then Mikayla piped in with her stellar rooster. On and on and on, for the whole 20 minute drive home. They didn't shut up even for one minute! At one point Jill turned around and Gianna had her hands over her ears! Poor thing! Well, this hit Jill's funny bone in a really big way and she went into one of those hysterical laughing fits that send your stomach into spasms and you can't get a breath. This of course just made me laugh all the harder. We were still laughing as I pulled up in the driveway, Jill so uncontrollably that when she went to get out of the car, she fell back in and got wedged on the floor in between the dash and the seat. As I was walking to the house she was yelling and laughing, "Help me! I'm stuck! I'm really stuck!" I just kept walking. She really must have been stuck because it was a full three minutes or so before she got in the house, rubbing her aching hip.
Oh Jill, how I love thee! Especially now because she just told me that when I left her laughing and stuck she peed herself! Heeheeheeeeeee!