Oh boy, first I was cursed with the dreaded CPAP machine and all the discomfort that entails, now this! What's this? Very swollen limbs, that's what! Most prominently my left foot and ankle. It's been doing this for over a week now. I wake up and my foot is normal size. A few hours later, after sitting at the computer and just floating around the house, I look like I've got elephantitis! You don't believe me? BAH! You should know me by now. I don't fib. Hell, I don't even exaggerate most of the time. And just to prove it, here's a picture of my foot from two nights ago.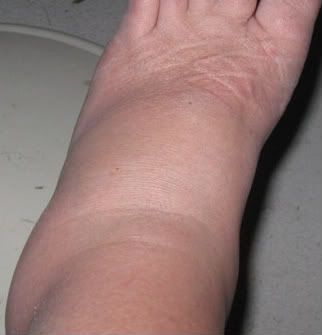 Oh, that's right. You've all already seen this from my picture game. Well, tough patooties. It's part of my story!
So yesterday I went to see my doctor. She took one look at my foot and said, "Whoa, you're retaining a lot of fluid there!" No! Ya think? She proceeded to examine me, made me pull up my pant leg and stand up for her, where she proceeded to poke, prod, rub and squeeze my leg. Nope, no pain, so that's good, but she said it wasn't just my foot and ankle that was swollen. The swelling went all the way up to the knee. First order of business is a sonogram, which was supposed to be done today on an emergency basis, just in case of a blood clot. But, I couldn't make it today, so I'll be having it done Tuesday. In the meantime, I'm on a very mild water pill and... get this... No, I can't even say it out loud! It's just too horrendous. Announcing this to all of blogland will just be too much of a blow to my pride, my vanity, my self worth! I can't do it.
Shit, you didn't really believe all that crap, did you?
I have to wear compression stockings! Also known as support hose. Also known as granny socks. Ain't my leg looking purty?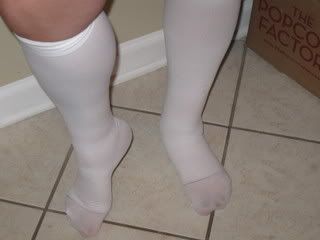 Do you see how swollen I am? Ugh, this sucks! Have to cut down on my salt too, which if you ask me is a major travesty. So, now you all can feel double sorry for me, because not only do I have to wear these stupid things all day, but then at night I get to shove snausages up my nose. Did I mention they came in the mail today? Yep, got them back and have to send the mask from hell back to the company. Let me remind you what the snausages look like...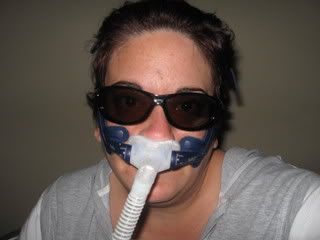 These days I'm feeling very speshool, that's for sure!