Each year, our next door neighbor, Grisel, organizes a big block party to celebrate the end of summer. All the families pitch in $20 and she rents bouncy castles, snow cone machines, a cotton candy machine, and then all of us neighbors bring something yummy to munch on. The bouncers are set up down in the cul-de-sac, and near our houses there are tents for those who want shade, tables and chairs and many many coolers, filled with drinks for the kids, and lots and lots of beer. This year Grisel even had her eldest daughter, Daniella doing face painting on the kids, blowing up long balloons and trying to make animals out of them, and even had stick-on tattoos, that even the adults were sporting. I passed on the tattoos since I have four of the real things decorating my skin.

Here's Dani and one of her good friends. Isn't she beautiful? Ah, to be 16 again!
This is her friend Michael. I call him the resident emo. Seems like a really nice kid and Dani speaks highly of him. Every day I see him waiting on the curb for his ride to school, black eyeliner, black clothes, black nails and all. Many might not agree, but I think it's great that his parents allow him to express himself in his own way.
I took so many damn pictures, I don't even know where to start! Here's Gianna in the small Sponge Bob bouncy they had set up for the littles.
The other two bouncy things. That's Jill's dh, Mark in the orange shirt.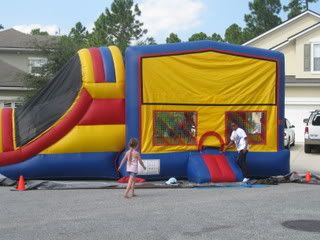 I took this picture of Jill, thinking that it's a pretty good one. But she took one look at it and
demanded
that I delete it right away. I'm sure you can imagine that I wasn't about to listen to her, and the fact is that HA! The picture is here on my blog, so neener neener, sis! But she did try and wrestle the camera from me, and then
chased me down the street
, whipping my ass with the cord of a play microphone. Owwwwwwwwwww! I'm sure to have bruises on both ass cheeks tomorrow. I saw some friends giggling on the sidelines. This could either be because I was getting my ass whipped, or they'd never seen two extra large women running. You be the judge.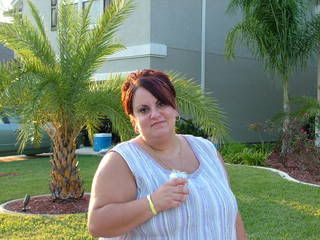 See? It's not a bad pic of her at all!
THIS
is.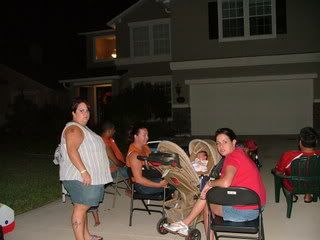 Can you see me snickering right now? Well, I am, because Jill is on her way home and cannot hurt me now! Look Jill, in all fairness, I let you get away with bruising my very sensitive buttocks. I did not hit you back. Instead, I'm hitting you where it really hurts. In your
vanity
! Bwaaaaaaaaaa haaaaaaaaa haaaaaaaaaaaa! That'll teach you not to mess with the big sista!
The men had a cool game set up on Ron's lawn, but no one knows the real name of the game, so they dubbed it "redneck horseshoes". We'd played this game years ago in our Tampa neighborhood but I was surprised to see it again. I had thought it was something the old neighbors made up. All it is, is two shallow wooden boxes with a large can in the middle of each, and the goal is to throw a washer (yes, I said a washer) from one end and get it in the can. Sounds silly, but it's really kind of fun and kept the men occupied for hours! Here's Jimmy standing around waiting for his turn.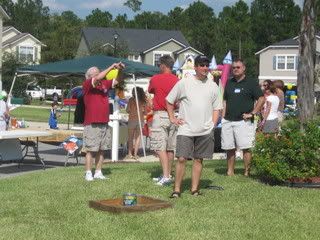 Manuel, making a brilliant toss!
Here are just some various pictures of the party going on. Not that you all will care, but I'm putting them in here anyway!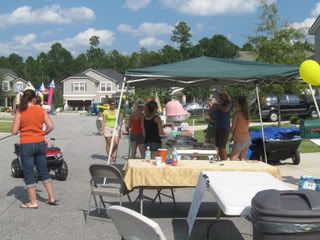 This is another Tracey I'm friends with. She's a real hoot! Take a look at the balloon Jill is holding, and tell me what YOU think it looks like. I'm keeping my nasty thoughts to myself for once.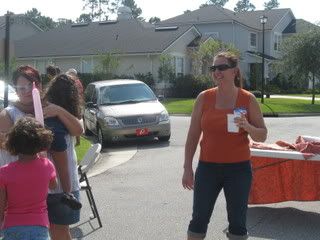 Tracey and Kristin, just chillin'.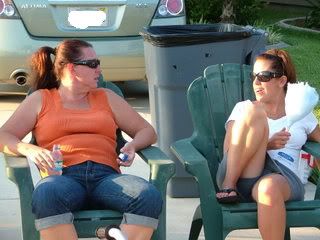 Princess Honey.
Now what would a party be without a couple pics of me and Larry? In this first pic, look at how he's scrutinizing my roots! Little stinker!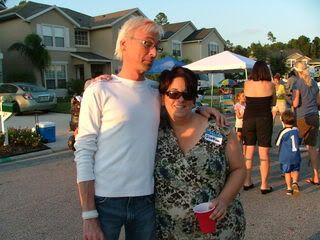 That's better!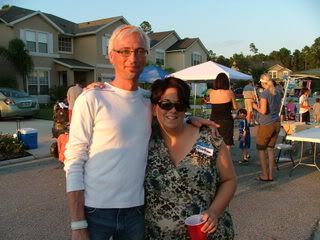 Later, Larry brought his beloved dog, Matahari down to party. Also, this is Michelle, with Gabby from next door. Oh, how I love Michelle. The girl is funny and has the greatest personality. Everyone loves her!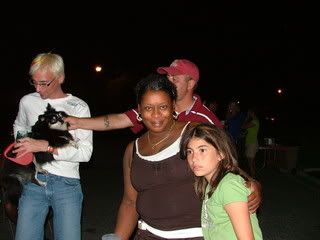 Ernie, Boston Dave, Ernie's wife, Angie, and Grisel.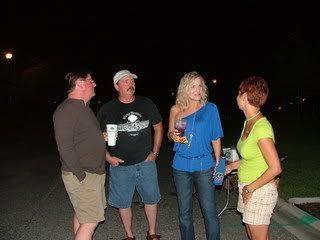 My new friend, Kristen. Doesn't she look like a teenager? LOVED HER.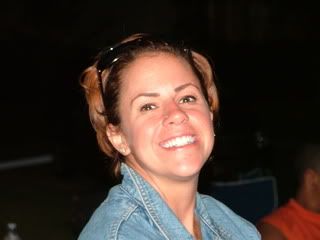 Angie, Tracy and John.
And finally, a cute picture of Dani (middle) with two of her friends. Twon is newly moved here from Taiwan, and I don't remember the guy's name, but he's really sweet.
Oops, let us not forget that it's football time! Manuel set up his projector so they could watch the game on the garage door. Cool, no?
I don't know about you, but I'm tired just reliving the block party. It was a lot of good old clean fun, with great conversations and lots of laughing. Michelle's birthday is next weekend, and we were invited to celebrate with her and a whole bunch of others on Friday, at a comedy club here in Jax. Should be a blast!