I have to share the horrible nightmare I had last night! Now, to set it up a bit, I have to first tell you that last week, my friend Becky found a tick on her daughter's leg.
Now those that know me, know that I love critters great and small, but aside from a dragonfly, I do NOT like bugs. And, as I always sit out on my back porch to email and blog and am not screened in, I am no stranger to the nasty blood sucking skeeters. And let us not forget the spittle bugs,
who while sitting on a leaf and eating it, disguise themselves by blowing a secretion out their butt that bubbles up to hide them. Ooh! And the stupid golden brown beetles that keep clocking themselves against the light fixture, before then falling down into my coffee mug or my keyboard. Oh, and my HEAD. Yes, they love landing in my hair, which grosses me out to no end.
As I sit here right now there are beetles circling overhead, cicadas singing in a nearby tree, spittle bugs plastered all over the stucco, and a lone tree frog singing his heart out. I do love the ribbits though. I can't get enough of tree frogs, which is why I have a huge one tattooed on my right shin.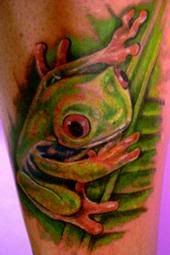 But back to the bugs. Florida is known for its bug population and I can attest it is true. We have bugs as big as helicopters, and more stinging/biting things than I care to think about. Five different species of poisonous snake, and a nice variety of spiders, the most scary being the black and brown widow, (which I'm constantly killing back here), and the brown recluse.
So it's no wonder that once in a while I'm going to have a dream that centers around arachnids and creepy crawly things. So there I was last night, sleeping like the proverbial baby,
when all of a sudden, my dreaming self starts scratching my scalp. Suddenly, I felt something. No, TWO somethings, sticking out of my scalp. OMG, I have TICKS!!!!!!!!!!!!!! TICKS in my HEAD!!!!!!!!!!!!! In my dream I start frantically trying to get hold of the tick's body to pull it out, but it's too slippery. Keeps sliding out between my fingers! So I move to the other one. Same thing. Can't grasp it!!!!!!!!!!!! So then I start tugging on my hair so hard that I woke myself up. I was in a sweat, freaking out, wondering, should I wake Jimmy up? Or can I handle this on my own? So I quickly went into the bathroom, flipped on the light and stared at myself in the mirror for a moment or two to compose myself before separating my hair to find these horrible miniature vampire-like critters with their heads embedded in my scalp, sucking the very life's blood out of me.
On the count of three... One... Two... Three. Separate hair. Stare in disbelief and then let out a huge sigh of relief as I realize my stupidity. I didn't have ticks after all. That was just a dream. I had been feeling something slippery though, but it was nothing more than the blue hair extensions Larry put in yesterday!! I was squeezing and pulling those bastards for all they were worth thinking they were bugs!!!!! If you've never seen a synthetic hair extension, it's put in with a kind of tape and glue right near the scalp. See?
Hey! While I was sleeping it really did feel like a bug sticking out of my head! Go ahead, you can laugh now, I won't hold it against you. But I tell ya what, it scared the bejeesus out of me at the time. I can't believe that I didn't realize what I had been pulling on when I first woke up. I literally didn't think about the extensions until I was starting straight at them. But now I can safely sing, "There ain't no bugs on me. There ain't no bugs on me. There may be bugs on some of your mugs, but there ain't no bugs on me!!!!!!!!!!!!!!!!!"
P.S. Just looked down to find a moth in my coffee! Grrrrrrrrrrrrrrrrrr!
Until next time, Justine :o )