Okay, how totally cool are these virtual maps? Yeah, I know, lots of you have already used Bing.com maps and Google Earth too, but I'm sometimes slow getting to these things. It was also a complete bitch to get the map saved so I could put text on it. Do you know what I had to go through?
First, I got my map. Then, because it won't let you save it, I had to take a screen shot. Then I had to paste the screen shot in Paint. Then I had to save it in My Pictures. Then I had to upload it to Photobucket. Then I was able to edit it. Pain in the ass, right? But soooo cool too!
So here ya go. An aerial shot of my part of the 'hood. I pointed out people I've mentioned often here on the bloggy.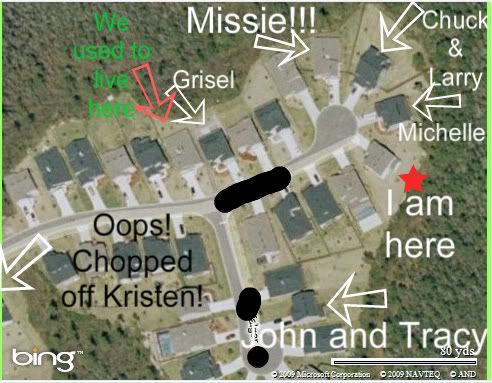 I love living in a cul-de-sac and definitely feel more protected, whether that's wishful thinking or not. The kids, especially Madison, love it too. When Madison wants to ride her bike around, she's allowed no further than the meeting of the two cul-de-sacs, or over to Kristen's if Kristen and I know she's heading that way.
This one I took from Google Earth. See how huge my neighborhood is? I have no clue how many houses there are, but I can tell you that it's big enough. From the main entrance to my driveway is 1.8 miles. I shit you not. It takes at least 3-4 minutes to exit the neighborhood through the front entrance!
This image was taken off our community's web site. Who wants to count all the tiny little houses for me?
I realized we've been living in this house for a good 6 months and I've never shared pictures with you. Keep in mind, this isn't our house. The house we own is in Tampa and refused to sell so it's now being rented. Until the market picks itself up and we can sell it, we're forced to rent.
Here's the front of the house. We've got 4 bedrooms, 2-1/2 baths and 2,600 square feet of living space.
A bit inside the foyer you have the staircase that first goes one way, turns, and goes the other way.
Another view, this time including the curved and unusable wall in the kitchen.
Here we are upstairs now. When I took this picture I was standing in the doorway to the master. Directly to my left is the guest room. Directly to the right is the laundry room. That first door you see is Mikayla's room, then to the left of that the girls' bathroom. Madison's room is down that section of the hallway.
The landing looking over the foyer.
Now keep in mind that these pictures were taken months ago, and these particular ones I took before hanging the picture or the other sconce. A few other things have changed in here as well but just suffice it to say that I decorate horribly. Oh, and that area rug is now rolled up and in my closet because Strudel thought it was delicious.
I hate this sofa table. It's a piece of crap and I didn't realize the back was particle board until Jimmy put it together. I keep saying I'm going to paint it black, but I'd rather just throw it through the window.
Powder room, and don't worry, the raffia has gone bye-bye!
Here's the kitchen. There have been some changes in here as well but I'm too lazy to take updated pictures.
Counter that overlooks the family room and eating area. Do you see HENry there? Do you remember him from RMS? Well, Jimmy BEHEADED him, on accident I'm sure. BUT… then put his head back on and never told me, so the next time I moved HENry to clean the counter his head went rolling away.
My chef dude says, "Cook it yourself!"
Ah, there's Gregory PECK. Still in one piece, too!
I love this cookbook stand! Can you love cookbook stands, Shelia? You bet your fat free Italian you can!
Quite a few more bottles have been added to this collection.
I took this picture the first time I sat out on my screened lanai with a cup of coffee and a good book.
My view into the woods. Look at how dead everything still was when I took this. It was a fairly cold winter. At least at night.
Oops, forgot this one. Small niche across the from the bottom of the stairs.
So now you kinda sorta know what my house is like. I haven't taken pictures of the other rooms because they're not totally set up or decorated at all.
Hope you enjoyed my little tour!
How about a little Strudel update? I'm about to kill her!
Don't let that woeful look fool you. She is bad. B.A.D.!!! This week alone she has eaten:
Mikayla's pin drive
My cell phone, which still works, but the battery just keeps falling out.
A throw pillow… fluff all over the place.
A bill… so torn up I have no clue whom the bill was from.
Mikayla's hand-woven art project basket
3 pens
1/3 of the cover of a hardcover book
countless cups
coupons
And just 5 minutes ago… the remote! I left her in the room for 5 damn minutes and when I went back in the top half of the remote was in pieces.
Anyone want a really cute but really bad golden?
Go visit Jill, yada yada yada. Love me, love her, yada yada yada.